Construction Fleets Initiatives
Clean Construction Contract Language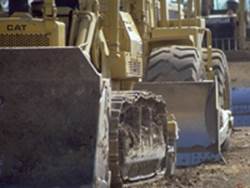 Diesel-powered "Construction and Mining Equipment" contributes approximately 23 tons of nitrogen oxides (NOx) per day in the Dallas-Fort Worth (DFW) ozone nonattainment area, or approximately eight percent of all ozone-forming NOX in this area.

To help reduce emissions from this sector, North Central Texas Council of Governments (NCTCOG) staff developed template Clean Construction Contract Language that could be incorporated into public works construction contracts as a strategy to improve air quality. The contract language is intended to increase the use of the cleanest available construction equipment and establish best operational practices.

The language was approved and included as Item 110, Air Quality Requirement for Equipment, in the final version of the Public Works Construction Standards North Central Texas, Fifth Edition, which was approved by the NCTCOG Executive Board in October 2017.

An excerpt of these construction standards is found here [PDF] and includes the template contract language and supporting forms. NCTCOG encourages local governments to include this language in construction contracts as an air quality measure.

A full copy of the Public Works Construction Standards North Central Texas, Fifth Edition is available for purchase at here.
Resources and Tools
NCTCOG Clean Construction Activities
In March 2010, the Regional Transportation Council approved a one-year Clean Construction Demonstration Project which evaluated the potential impacts of implementing the Clean Construction Specification, both for industry and local governments. NCTCOG staff partnered with local governments across the region on a voluntary basis to incorporate the Clean Construction Specification into public works contracts and/or collect responses to the Contractor Questionnaire.

For more information, please contact Lori Clark at lclark@nctcog.org.