Safe Routes to School
Walk to School Day will be Wednesday, October 4, 2023!
On Walk to School Day, children and adults around the world celebrate the benefits of walking and bicycling, and spotlight the importance of traffic safety. For more information and to register to receive promotional giveaways from NCTCOG for Walk to School Day, see the Walk to School Day web page.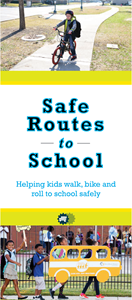 NCTCOG's Safe Routes to School (SRTS) program is focused on encouraging and enabling more children to safely walk and bicycle to school, thereby improving student health, traffic congestion, safety, and air quality around schools. NCTCOG supports SRTS with funding, encouragement, education, and planning. Check out our brochure for more information (also available in Spanish).
For information about school siting in the region, see School Site Planning & Access web page.
Quick Facts:
The percentage of students that walk or bicycle to school has dropped from a national average of 48 percent in 1969 to just 13 percent in 2009, and to 10 percent in 2017.1,2
Vehicle trips to K-12 schools account for 10 to 14 percent of traffic during the morning commute.1
SRTS engineering, education, and encouragement interventions have been shown to decrease pedestrian injury rates by 44 percent, and increase walking and biking rates by 25 percent.3, 4
If 100 children at one school walked or bicycled instead of being driven every day for one school year, they would keep nearly 35,000 pounds of pollutants out of the air.5
Staff Contact: Shawn Conrad
Footnotes
1. National Center for Safe Routes to School. (2011). How children get to school: School travel patterns from 1969 to 2009.
2. Federal Highway Administration. (2019). Children's Travel to School: 2017 National Household Travel Survey
3. Di Maggio & Guohua. (2013). Effectiveness of a safe routes to school program in preventing school-aged pedestrian injury. Pediatrics. 131(2), 290-296.
4. McDonald et. al. (2014). Impact of the safe routes to school program on walking and bicycling. Journal of the American Planning Association, 80(2), 153-167.
5. National Center for Safe Routes to School Task Force. (2008). Safe Routes to School: A Transportation Legacy - A National Strategy to Increase Safety and Physical Activity among American Youth.