Rail Planning
The DFW region is home to three of the nation's Class I Railroads: BNSF Railway, Canadian Pacific Kansas City (CPKC), and Union Pacific Railroad (UPRR). Two short-line railroads operate in the region – Dallas Garland & Northeastern, and Fort Worth and Western Railroad. These rail lines combine to serve all 48 contiguous states, Alaska, Canada, and Mexico and work cooperatively with trucking firms and ocean shippers to expedite intermodal movements.
There are a few notable intermodal facilities located throughout the region – BNSF's intermodal facility at Alliance Airport, UPPR's intermodal Dallas facility at IH 20 and IH 45, and UPPR's intermodal Mesquite facility at IH 635 and US 80).
There are four transit rail operators in the region – Dallas Area Rapid Transit (DART), Trinity Metro (TM), Trinity Railway Express (TRE), and Denton County Transit Authority (DCTA).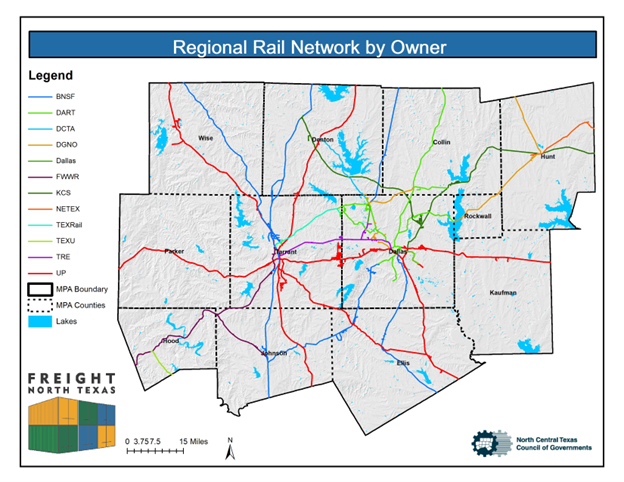 NT MOVES
The North Texas Multimodal Operations, Velocity, Efficiency and Safety Program (NT MOVES) is a long-range plan for increasing freight and passenger mobility between Dallas and Fort Worth through strategic investment in rail capacity to improve multimodal transportation. NT MOVES is being pursued by NCTCOG jointly with DART, TM, and TRE with projects submitted through NCTCOG's Regional Transportation Council (RTC). NT MOVES is, in part, funded through a BUILD grant and contains three projects: double tracking rail on the TRE from Medical Market Center to Stemmons Freeway (IH 35E), double tracking rail on the TRE from Handley Ederville Road to Precinct Line Road, and establishing a regional rail information system across the region. These projects are anticipated to significantly help relieve congestion; enhance mobility, connectivity, and reliability; improve regional air quality; and improve safety along the TRE corridor and regional railways.