Crash Information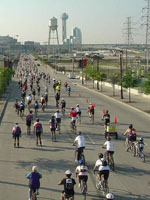 Bicycle and pedestrian crash information is collected and analyzed using a GIS-based system for the Dallas-Fort Worth (DFW) region. The system helps identify motor vehicle crash hot spots involving pedestrians and bicyclists. This system incorporates crash data received from the Texas Department of Transportation (TxDOT) Crash Records Information System (CRIS). Thematic maps displaying both location and density of crash incidents provide a visual representation of the available data.

Data collected from TxDOT's CRIS was used to display "Reportable Crashes" that occur or originate on a traffic way which result in injury or death of any person, or damage to the property of any person to the apparent extent of $1,000. The points displaying crash sites were derived from crash reports containing latitude and longitude information, therefore additional crashes may have occurred. Maps identifying density of crashes utilize a low to very high density scale with yellow symbolizing lower concentrations of crashes and red symbolizing higher concentration. Density concentration is calculated as a magnitude per unit area from crash point features and is based on each county's geography.

All TxDOT disclaimers apply for the use of this data. (Disclaimer)
2018 - 2022 Crash Data Available to view in Using Online Interactive Map
NCTCOG's interactive map allows users to view all reported bicycle and pedestrian crashes from 2018-2022 within the 12-county Metropolitan Planning Area (MPA). Users can also select or deselect the map layers using the layer's list (upper left icons list on screen) to isolate bicycle crashes or pedestrian crashes by themselves. Using a grid map over the MPA, the map is color coded so areas with higher crash densities (noted by darker colors) can be easily identified. Zooming in on the map allows the viewer to click on the square mile "cells" or the individual crashes, to view the associated attributes.
Note: only one square-mile layer should be selected at a time, to optimize the displayed information.
Click the map below to open the interactive bicycle and pedestrian crash map.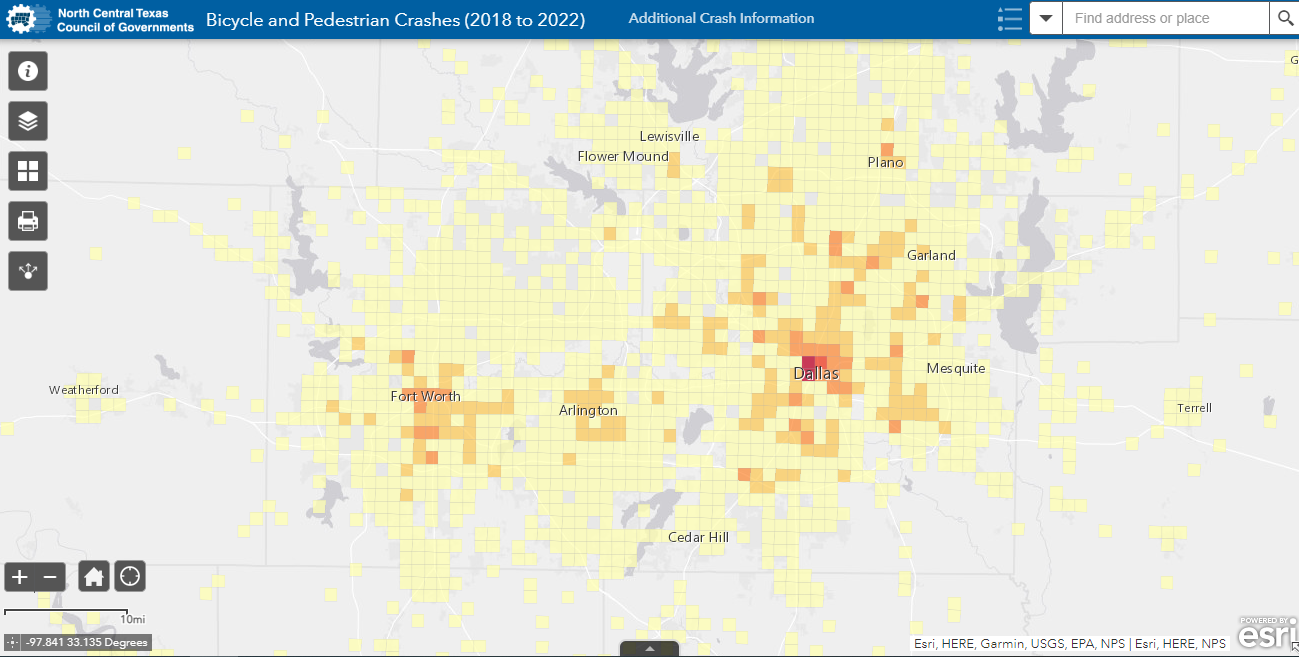 2018 - 2022 Bicycle and Pedestrian Crash Maps by County for the DFW Region
Urbanized Area (2018-2022)
Urbanized Area Bicycle and Pedestrian Crash Density

County Maps (2018-2022)
Collin County Bicycle and Pedestrian Crash Locations and Density
Dallas County Bicycle and Pedestrian Crash Locations and Density
Denton County Bicycle and Pedestrian Crash Locations and Density
Ellis County Bicycle and Pedestrian Crash Locations and Density
Hood County Bicycle and Pedestrian Crash Locations and Density
Hunt County Bicycle and Pedestrian Crash Locations and Density
Johnson County Bicycle and Pedestrian Crash Locations and Density
Kaufman County Bicycle and Pedestrian Crash Locations and Density
Parker County Bicycle and Pedestrian Crash Locations and Density
Rockwall County Bicycle and Pedestrian Crash Locations and Density
Tarrant County Bicycle and Pedestrian Crash Locations and Density
Wise County Bicycle and Pedestrian Crash Locations and Density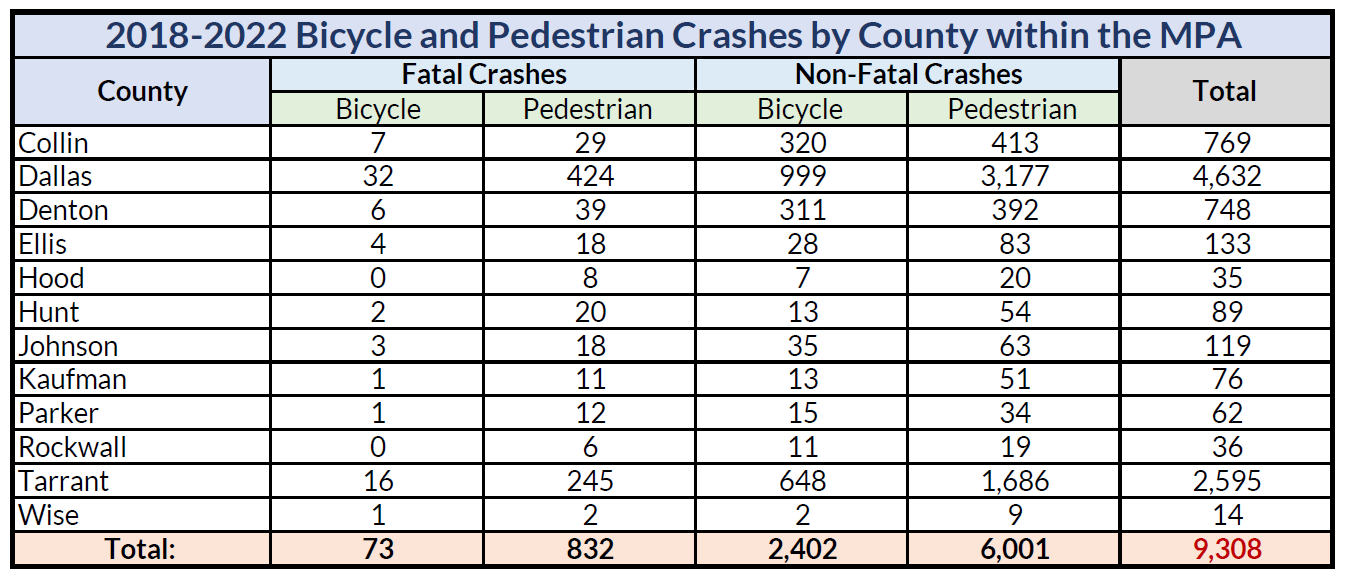 Staff contact: Catherine Richardson