Legislative Affairs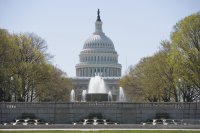 Both the Texas Legislature and the United States Congress address many important transportation issues that affect the Dallas-Fort Worth area.
Transportation and air quality in the North Central Texas region are impacted by legislative decisions at the State and federal levels.

NCTCOG staff regularly update policy and technical committee members, transportation partners and others interested in monitoring legislative initiatives related to the Regional Transportation Council (RTC) legislative priorities.
In order to understand current legislative initiatives, the RTC directed the development of a Transportation Funding 101 primer so legislators and the general public can better understand funding sources for transportation as well as trends that impact the amount of funding available. A shortfall of funding has been identified and the primer also addresses potential solutions to increase funding options.
February 3, 2023 Legislative Update
FROM WASHINGTON, D.C.
The House Transportation & Infrastructure Committee held an organizational committee hearing followed by a full hearing on supply chain challenges on Wednesday. Witnesses included representatives from the American Trucking Associations, the Association of American Railroads, Hamilton Construction, on behalf of Associated General Contractors of America, the Port Houston, and the Transportation Trades Department of the AFL-CIO. Another hearing is planned for February 7 to address aviation safety issues. Chairman Sam Graves announced that he wants an initial House version of the FAA reauthorization bill by July 1.

The Senate Committee on Environment and Public Works also kicked off their first meeting of the year on Wednesday to discuss committee rules and a committee budget resolution. Meanwhile, the Senate Commerce, Science, and Transportation Committee planned to start its formal work this week but the hearing was postponed one week. The committee will instead meet on February 9 to establish rules and a budget resolution for the committee, which also has jurisdiction over the FAA bill. It is expected that Senator Ted Cruz (R-Texas) will take over as ranking member from Roger Wicker (R-Miss.), who is moving to be the top Republican on Armed Services.

On Wednesday, U.S. Transportation Secretary Pete Buttigieg announced $800 million in grant awards for 510 projects through the new Safe Streets and Roads for All (SS4A) Grant Program, which is funding to improve roads and address traffic fatalities. The Department is awarding 473 action plan grants and 37 grants for implementation projects in this first round of the program. Action plan grants assist communities that do not currently have a roadway safety plan in place to reduce roadway fatalities, laying the groundwork for a comprehensive set of actions. In North Texas, the cities of Arlington, Desoto, and Fort Worth were each awarded grant funds for action plans. Biden-Harris Administration Announces Historic $800 Million for More than 500 Projects to Improve Roads at the Local Level and Tackle National Traffic Fatalities | US Department of Transportation

FROM AUSTIN
The winter weather event has slowed the pace of the Texas Capitol over the past week. Nevertheless, the Senate finance committee managed to squeeze in a meeting on Monday, January 30. Chair Huffman reported that SB 1 included $288.7 billion in all funds. Comptroller Hegar provided the committee with an update on the Biennial Review Estimate, stating he had seen a 26.3% increase in available revenue. He reviewed factors that led to the large budget surplus and presented other factors could impact the budget, including recovery from Winter Storm Uri, the war in Ukraine, COVID measures in China, and continuing supply chain disruptions. Comptroller Hegar also told the committee that he had never seen such a surplus and would likely not see one again. Hegar stated, "The bottom line is: we're very fortunate today in Texas."

HIGHLIGHTED BILLS
SB 225 (Nichols)- Relating to the determination of the sufficient balance of the economic stabilization fund for the purpose of allocating certain constitutional transfers of money to that fund and the state highway fund.
If passed, it would eliminate the expiration date for Proposition 1 in statute, making the funding stream permanent.

SCR 2 (Nichols)- Extending the duty of the comptroller of public accounts under Section 7-c, Article VIII, Texas Constitution, to deposit certain tax revenue to the state highway fund.
If passed, would extend the expiration dates for Proposition 7 to 2042 for the $5B/biennium from general sales tax, and to 2039 for the portion of Proposition 7 from motor vehicle sales tax.

SJR 37, HJR 77- Proposing a constitutional amendment to permit additional uses of certain dedicated general revenue transferred each fiscal year to the state highway fund.
The constitutional amendment would add public transportation, bicycle paths, and sidewalks to the uses that Proposition 1 funds can be used for.

HB 210 (Swanson)- Relating to restitution payments for the support of a child whose parent or guardian is a victim of intoxication manslaughter.
If passed, HB 210 would require an individual convicted in intoxication manslaughter to pay restitution child support payments to victim's child until the child graduates from high school or reaches 18 years of age, whichever is later. If the individual is sentenced to jail time, they will have one year to begin making restitution back payments for each year from the time of the parent's death to the child's 18th birthday or graduation date.

MONITORED BILLS LIST
A table of bills related to the RTC Legislative Program can be found here.
A list of tracked bills in the Texas Legislature can be found here.
For information on bills in the US Congress or the Texas Legislature, please contact Nick Allen at nallen@nctcog.org.

upcoming committee hearings
US CONGRESS
US House of Representatives
The House Committee on Transportation and Infrastructure will meet on February 7 for a hearing titled, "FAA Reauthorization: Enhancing Americas Gold Standard in Aviation Safety." The hearing witness list includes representatives from the Federal Aviation Administration, the National Transportation Safety Board, International Air Line Pilots Association, General Aviation Manufacturers Association, National Business Aviation Association, and the Center for Advanced Aviation System Development.
US Senate
The Senate Committee on Commerce, Science and Transportation, will convene an Executive Session on Thursday, February 9, to meet on the following topics:

Rules Governing the Senate Committee on Commerce, Science and Transportation

Budget Resolution for the Senate Committee on Commerce, Science and Transportation
TEXAS LEGISLATURE
Senate Finance Committee
Monday- 2/13/2023, SB 1 (Article VI), this includes the Texas Commission on Environmental Quality.
Senate Finance Committee
Tuesday- 2/14/2023, SB 1 (Article VII), this includes the Texas Department of Transportation.
Recent COMMITTEE HEARINGS
US CONGRESS
US House of Representatives
The Committee on Transportation and Infrastructure met on February 1 for an organizational meeting.

Immediately following the organizational meeting, the full committee held its first full hearing of the 118th Congress on, "The State of Transportation Infrastructure and Supply Chain Challenges."
US Senate
The Senate Committee on Environment and Public Works held a regular business meeting on February 1 to discuss committee rules and a committee budget resolution.
TEXAS LEGISLATURE
Senate Finance Committee -1/30, Held their initial hearing on SB 1, the statewide two-year budget.
---
To view Committee Hearings for the Texas Senate click here:
http://www.senate.texas.gov/av-live.php
To view Committee Hearings for the Texas House click here:
http://www.house.state.tx.us/video-audio/
Texas Legislature - 88th Session January 10, 2023 - May 29, 2023
Other Resources
In 2005 Congress passed the Safe, Accountable, Flexible, Efficient Transportation Equity Act: A Legacy for Users (SAFETEA-LU) . This legislation guided surface transportation policy and funding through 2009. Nine short-term extensions passed since SAFETEA-LU expired in 2009. The final short-term extension of SAFETEA-LU extended surface transportation authorization through June 30, 2012.
On July 6, 2012, President Obama signed into law a two-year $105 billion surface transportation authorization, titled Moving Ahead for Progress in the 21st Century (MAP-21). MAP-21 reauthorized the federal-aid highway, highway safety and transit programs that were last authorized by SAFETEA-LU. New programs and funding levels began on October 1, 2012, and continued through September 30, 2014. The final short-term extension of MAP-21 expired on December 4, 2015.
On December 4, 2015, President Obama signed the Fixing America's Surface Transportation (FAST) Act into law, which authorizes Federal highway, transit, safety and rail programs for five years at $305 billion. The FAST Act is effective October 1, 2015 through September 30, 2020.
2019 RTC Principles for Federal Surface Transportation Authorization
Resources
Infrastructure Investment and Jobs (IIJA) Act
FAST Act
MAP-21
SAFETEA-LU