Legislative Affairs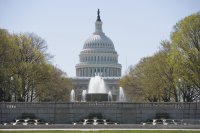 Both the Texas Legislature and the United States Congress address many important transportation issues that affect the Dallas-Fort Worth area.
Transportation and air quality in the North Central Texas region are impacted by legislative decisions at the State and federal levels.

NCTCOG staff regularly update policy and technical committee members, transportation partners and others interested in monitoring legislative initiatives related to the Regional Transportation Council (RTC) legislative priorities.
In order to understand current legislative initiatives, the RTC directed the development of a Transportation Funding 101 primer so legislators and the general public can better understand funding sources for transportation as well as trends that impact the amount of funding available. A shortfall of funding has been identified and the primer also addresses potential solutions to increase funding options.
Legislative Update - May 26, 2023
FROM WASHINGTON, D.C.
On May 23, 2023, the House Committee on Transportation and Infrastructure met to conduct a full committee markup of eighteen bills and amendments. The committee reported all legislation favorably to the full House. Notable legislation debated and amended included measures to expand commercial truck parking, increase axle weight tolerances for commercial trucks, reform the major project permitting process, and increase weight tolerances for hydrogen-fueled commercial trucks on the interstate highway system.
H.R. 2367, the Truck Parking Safety Improvement Act was agreed to with a bipartisan vote of 60-4; amendments included identifying a funding account for the grant program, the posting of notices at facilities for human trafficking and suicide prevention resources, and the preclusion of eligible projects from acquiring land through eminent domain. H.R. 3316 to streamline the environmental review process was approved and specifically addresses reviews for pipeline projects, airports, aviation, and time limits for reviewing federal agencies. H.R. 3318 to establish an axle weight tolerance was approved and would allow commercial trucks to operate at 110% of the current axle weight standard when hauling a homogenous non-liquid load. H.R. 3447 to authorize a hydrogen-powered vehicle to exceed weight limits was reported favorably to the House with a bipartisan vote of 55-5.
FROM AUSTIN
Texas Transportation Commission
During the May 25 Texas Transportation Commission meeting, Commissioner New discussed the MPO Safety Task Force. TxDOT and the MPOs have been working together to develop a safety plan for all 23 MPOs. The main goal is to decentralize the plan to all MPOs, and the plan will continue to disseminate among rural districts. Commissioner New also talked about the HERO Program. The goal is to get people off the roadway, reduce delays, reduce secondary crashes, and utilize emergency responder resources.
HIGHLIGHTED BILLS
HB 914 (Hefner)- Relating to temporary vehicle tags and the offense of tampering with a governmental record.
CSHB 914 would expand the definition of "governmental record" to include a temporary vehicle tag. The bill also would make the offense of tampering with a temporary vehicle tag a class A misdemeanor (up to one year in jail and/or a maximum fine of $4,000). If the person committed the offense in the county in which they lived, a peace officer could issue a citation instead of bringing the person before a magistrate. Governor Abbott signed the bill and it becomes effective September 1.
SB 505 (Nichols)- Relating to imposing an additional fee for the registration of an electric vehicle.
SB 505 would amend Transportation Code to establish an additional registration fee for electric vehicles that weigh 10,000 pounds or less. Fees collected would be deposited to the State Highway Fund. The bill would establish a $400 fee for the registration of a new electric vehicle and $200 for the renewal of registration of a vehicle. Governor Abbott signed the bill and it becomes effective September 1.
SB 784 (Birdwell)- Relating to the exclusive jurisdiction of the state to regulate greenhouse gas emissions in this state and the express preemption of local regulation of those emissions.
SB 784 amends the Health and Safety Code to clarify that the state has exclusive jurisdiction to regulate greenhouse gas emissions in Texas to the extent not preempted by federal law. The bill prohibits a municipality or other political subdivision from enacting or enforcing an ordinance or other measure that directly regulates greenhouse gas emissions. For purposes of these provisions, "greenhouse gas emissions" means carbon dioxide, methane, nitrous oxide, hydrofluorocarbons, perfluorocarbons, and sulfur hexafluoride. Governor Abbott signed the bill and it becomes effective September 1.
MONITORED BILLS LIST
A table of bills related to the RTC Legislative Program can be found
here
.
A list of bills being tracked in the Texas Legislature can be found
here
.
A list of bills being tracked in the US Congress can be found
here
.
For information on bills in the US Congress or the Texas Legislature, please contact Nick Allen at
nallen@nctcog.org
.
RECENT COMMITTEE HEARINGS
US CONGRESS
US House of Representatives
House Transportation and Infrastructure

Full Committee markup of 18 bills (5/23/23)

Oversight & Accountability

Driving Bad Policy: Examining EPA's Tailpipe Emissions Rules and the Realities of a Rapid Electric Vehicle Transition (5/17/23)
TEXAS LEGISLATURE
Texas Senate
Business & Commerce (5/19/23)

HB 2265 (Leach)- Relating to the award of compensatory damages caused by certain delays under governmental construction contracts. Left pending.

HB 3440 (Canales)-

Relating to the governmental bodies required to post on the Internet agendas for meetings under the open meetings law. Voted favorably as substituted.
---
To view Committee Hearings for the Texas Senate click here:
http://www.senate.texas.gov/av-live.php
To view Committee Hearings for the Texas House click here:
h
ttp://www.house.state.tx.us/video-audio/
Texas Legislature - 88th Session January 10, 2023 - May 29, 2023
Other Resources
In 2005 Congress passed the Safe, Accountable, Flexible, Efficient Transportation Equity Act: A Legacy for Users (SAFETEA-LU) . This legislation guided surface transportation policy and funding through 2009. Nine short-term extensions passed since SAFETEA-LU expired in 2009. The final short-term extension of SAFETEA-LU extended surface transportation authorization through June 30, 2012.
On July 6, 2012, President Obama signed into law a two-year $105 billion surface transportation authorization, titled Moving Ahead for Progress in the 21st Century (MAP-21). MAP-21 reauthorized the federal-aid highway, highway safety and transit programs that were last authorized by SAFETEA-LU. New programs and funding levels began on October 1, 2012, and continued through September 30, 2014. The final short-term extension of MAP-21 expired on December 4, 2015.
On December 4, 2015, President Obama signed the Fixing America's Surface Transportation (FAST) Act into law, which authorizes Federal highway, transit, safety and rail programs for five years at $305 billion. The FAST Act is effective October 1, 2015 through September 30, 2020.
2019 RTC Principles for Federal Surface Transportation Authorization
Resources
Infrastructure Investment and Jobs (IIJA) Act
FAST Act
MAP-21
SAFETEA-LU