NAS JRB Fort Worth Community Information
The Naval Air Station Joint Reserve Base Fort Worth is the first Joint Reserve Base in the country. NAS JRB Fort Worth provides support and training for all branches of the Armed Services. The base is also an active participant in the community and coordinates with the cities of Benbrook, Fort Worth, Lake Worth, River Oaks, Sansom Park, Westworth Village, and White Settlement in conjunction with Tarrant County.

Learn more about NAS JRB Fort Worth, the base's economic impact, noise mitigation, planning and zoning, community involvement, and rules for drones/UAS below.
NAS JRB Fort Worth: Past and Present
The military presence in Tarrant County goes back to the nineteenth century, and the aviation sector here goes back to World War I when the county hosted three airfields for flight training. However, the military installation currently known as Naval Air Station Joint Reserve Base Fort Worth was first established during World War II as an airfield adjoining a bomber factory near Lake Worth and eventually became known as the Fort Worth Army Air Field.
Unlike many World War II-era military installations, Fort Worth Army Air Field remained open after the war. The U.S. Air Force was officially established as a separate branch of the military in 1947, and in 1948, the Fort Worth Army Air Field became Carswell Air Force Base. The base was named to honor the memory of Major Horace S. Carswell, Jr., a Fort Worth native who gave his life attempting to pilot his damaged B-24 to safety after a bombing run. For "a supreme effort to save all members of his crew," Major Carswell was awarded a posthumous Medal of Honor. To this day, longtime North Texas residents will refer to the base as "Carswell Field."
Beginning in 1988, the United States Department of Defense has pursued a policy of increasing the efficiency of its post-Cold War operations through a process known as Base Realignment and Closure (BRAC). Carswell Air Force Base was selected for BRAC in 1991. As a result, the base was transferred to the U.S. Navy in 1994 and became the first joint reserve base in the country.

Currently, NAS JRB Fort Worth is home to a variety of Navy, Marine Corps, Air Force, Army and Texas Air National Guard units—approximately 40 separate commands—with more than 10,000 active duty military, Guardsmen, Reservists, and civilian employees working to support national defense goals and the local community.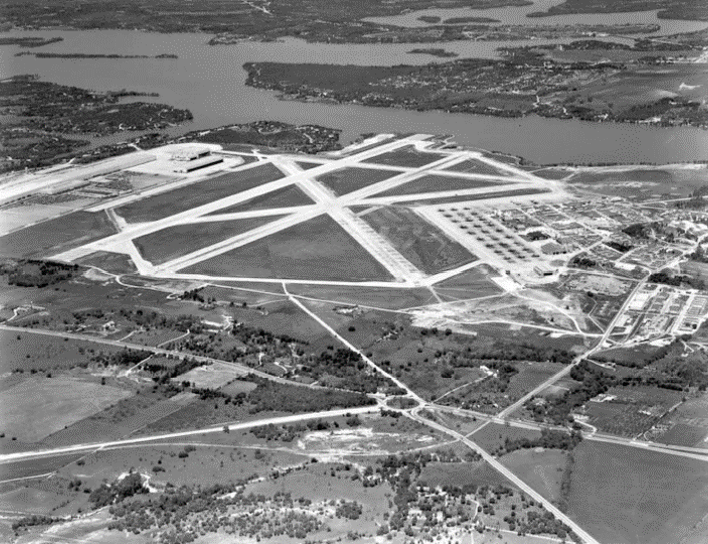 *Information in this section comes from J'Nell L. Pate's book, Arsenal of Defense: Fort Worth's Military Legacy, an excellent resource for those interested in the area's military history.
Defense Sector
NAS JRB Fort Worth is just one facet of Tarrant County's thriving defense sector: Lockheed Martin, Bell, L3Harris and Raytheon all operate facilities locally and maintain a footprint in North Texas. Lockheed Martin, one of Tarrant County's largest employers, operates an aircraft manufacturing plant adjoining the base. Accordingly, defense spending is a significant contributor to the local, regional and state economies. This investment reflects the military's respect for the people, businesses and civic leadership of Tarrant County.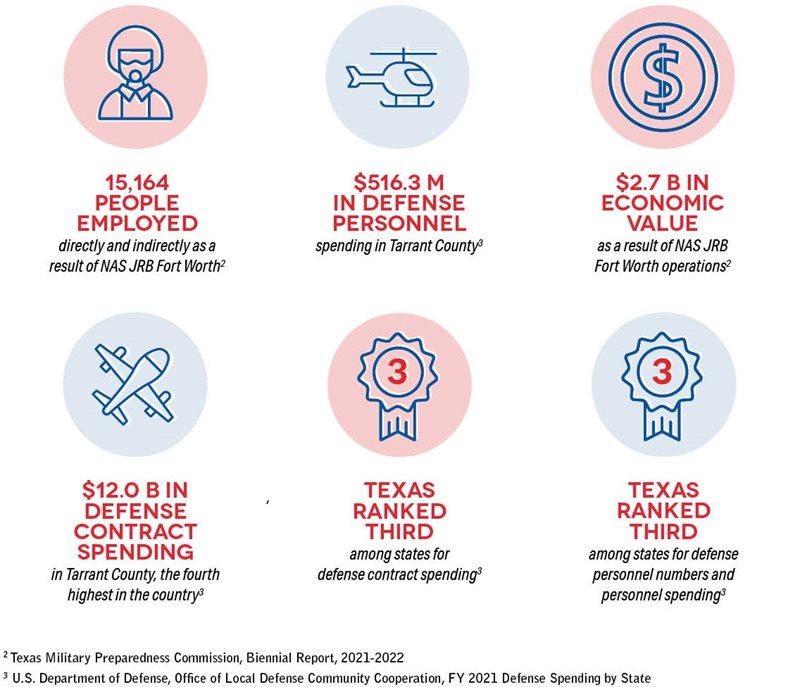 Sound Mitigation Efforts
Over the years, several thriving communities have grown up around NAS JRB Fort Worth, which has made avoiding, minimizing and reducing noise a priority for the base. US Navy guidelines have specific sound attenuation recommendations that NAS JRB Fort Worth actively pursues. Noise abatement procedures apply to flight operations and engine run-up and maintenance operations conducted on base. NAS JRB Fort Worth implements these procedures under the NAS JRB Fort Worth Air Ops Manual. For example, aircrews are instructed to avoid low-altitude flight over populated areas whenever possible, and local flight procedures are regularly reviewed to balance safety, mission effectiveness and noise impacts. Other measures include base staff maintaining open lines of communication with municipal staff and community leaders to develop and implement noise abatement procedures when possible.

The Department of Defense (DOD) identifies noise exposure zones surrounding a military airfield as a planning tool for local municipalities. Noise exposure from aircraft is measured using the day-night average sound level (DNL). DNL is an average of cumulative noise exposure produced by individual events that occur over a 24-hour period. Aircraft operations conducted at night (between 10:00 p.m. and 7:00 a.m.) are weighted to represent the added intrusiveness of sounds occurring during normal sleeping hours. On the map, the DNL is depicted visually as noise contours showing zones of 65, 70, 75 and 80 decibels.
Safety Zones
The DOD identifies safety zones as areas where an aircraft accident is most likely to occur in the vicinity of airfields. The DOD provides accident potential zones (APZ) as a planning tool to assist municipalities with land use planning and future community development. The DOD defines three safety zones—the Clear Zone, APZ I and APZ II. The Clear Zone extends beyond the runway and has the highest potential for accidents. APZ I extends beyond the Clear Zone, and APZ II extends beyond APZ I. If an accident were to occur, it would most likely occur in the Clear Zone and would be more likely to occur in APZ I than APZ II.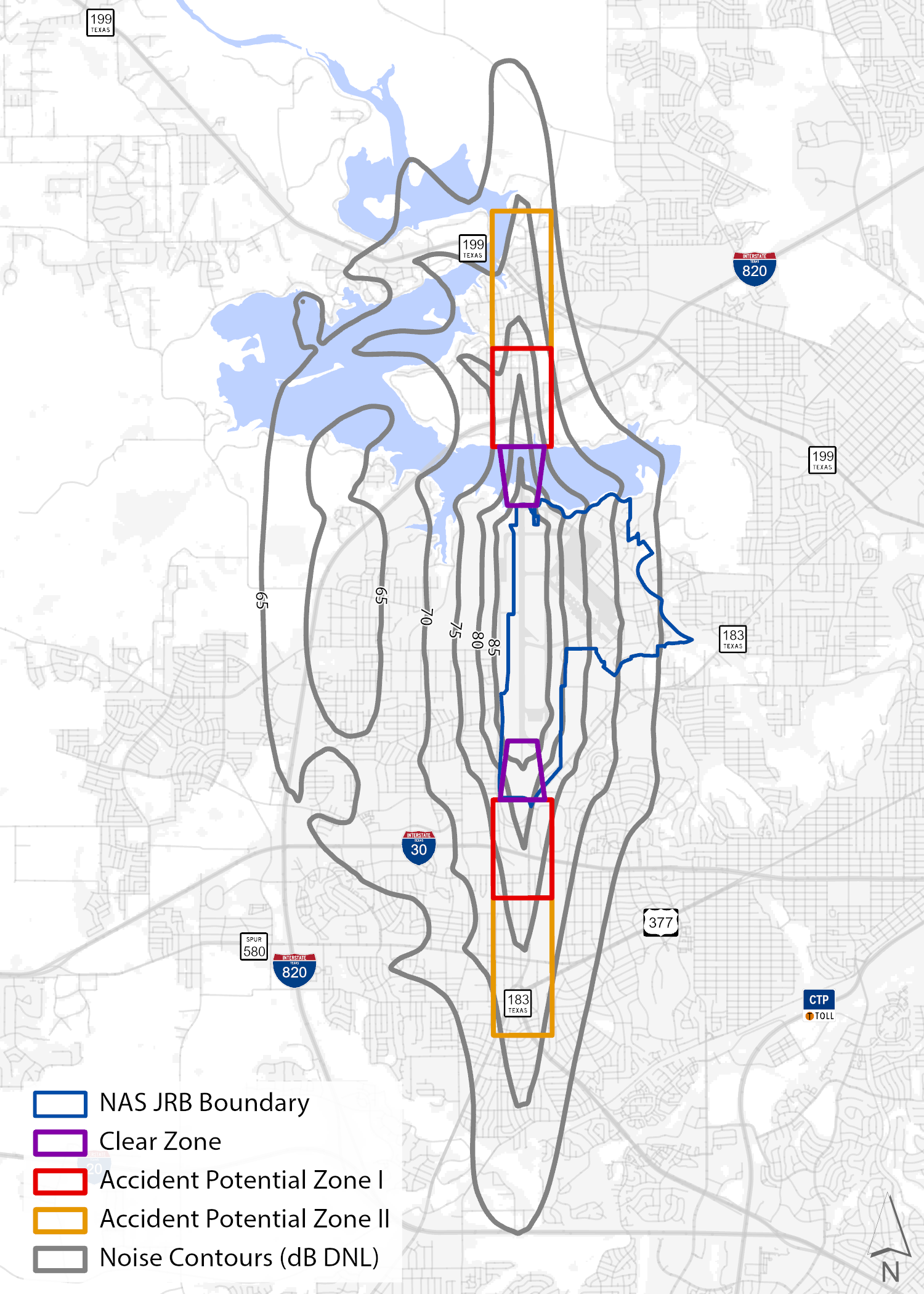 Base and Community Coordination
Regional Coordination Committee
NAS JRB Fort Worth and community leaders recognize the need for a positive and mutually beneficial relationship between the base and surrounding cities. A 2008 study recommended the formation of a cooperative forum for developing and implementing programs and policies to help the base and surrounding communities thrive together. Therefore, the NAS JRB Fort Worth Regional Coordination Committee (RCC) was established as an initiative of seven surrounding cities in conjunction with Tarrant County.

Over the past several decades, the Dallas-Fort Worth area has experienced rapid growth, with a population estimated at 8 million people. Local community leaders understand that encroachment from urban development may have a long-term effect on the base's ability to sustain its military training mission. Encroachment occurs when conditions outside a military installation limit the ability of the military to perform its mission safely and effectively, or when military operations diminish the quality of life in surrounding areas.
Therefore, the RCC's mission is two-fold:
Serve as a forum for dialogue between the base and the surrounding communities to implement recommendations from studies and plans related to compatible development, livability and public engagement.
Provide support for the base and members of the military to preserve NAS JRB Fort Worth as a strategic military asset and to enhance the economy and quality of life in the surrounding communities.
Meetings
The RCC meets quarterly to discuss base operations, new developments, transportation and infrastructure, municipal plans and policies, legislative actions and other items affecting the local community. Meetings are open to the public and occur on the fourth Monday of January and third Mondays of April, July, and October at 1:30 pm. The location rotates among the voting entities. Time for public comments is reserved at the end of every meeting.
Membership
The RCC is comprised of eight voting entities: the cities of Benbrook, Fort Worth, Lake Worth, River Oaks, Sansom Park, Westworth Village, and White Settlement as well as Tarrant County. Each entity may place two members on the RCC. NAS JRB Fort Worth participates as a non-voting member and provides regular briefings to the committee. The North Central Texas Council of Governments (NCTCOG), a regional planning agency, provides staff and administrative support to the RCC. In addition, the following non-voting entities also participate in RCC meetings and activities:
Chambers of Commerce
Department of Defense, Office of Local Defense Community Cooperation
Lockheed Martin Corporation
Local and State transportation agencies
NAS JRB Fort Worth
Realtor associations
School districts
State and Federal legislative offices
Tarrant Regional Water District
Texas military commissions and committees

Please feel free to contact your city or county RCC member with any questions or concerns about base operations.
Planning and Zoning
State law determines many of the strategies available to local governments seeking to promote compatibility around military installations. Zoning is a common mechanism for reducing conflicts by controlling the intensity or type of development near military operations. The voting entities of the Regional Coordination Committee have adopted municipal zoning measures to regulate the types of development permitted near NAS JRB Fort Worth. To ensure compatible land uses, these zoning tools may recommend limits on the height of certain structures in a flightpath or recommend sound mitigation, such as insulation or types of windows and doors, in certain types of developments.

For example, Fort Worth has adopted an Airport Overlay District and Compatible Use Zone sub-districts for land located north and south of the base that the Department of Defense has determined is at risk if a plane crashes during takeoff or landing. Depending on the location, these districts may prohibit all development, or they may simply discourage certain types of dense residential development or education facilities.
RCC Development Review Tool
To help facilitate early consideration of proposed developments near NAS JRB Fort Worth, the RCC maintains an online Development Review Tool. The system is a clearinghouse to discuss various project types, including zoning changes, height obstructions and site plans. City and county staff are able to enter proposed planning and zoning cases into the tool and receive feedback from the base, the North Central Texas Council of Governments (NCTCOG) and other RCC members about whether a development project poses a compatibility concern. These discussions are assisted by compatible land use guidelines prepared by the U.S. Department of Defense. Members of the public may view the proposed projects as well.
Department of Defense Coordination
The RCC and NCTCOG regularly coordinate with the Department of Defense through its Office of Local Defense Community Cooperation on opportunities to address compatibility issues in the community. This coordination has led to two Joint Land Use Studies since 2006. These studies are collaborative processes among local governments, military installations, citizens and other stakeholders to identify, address and help prevent encroachment issues that may affect current and future military missions and nearby communities. Through these studies, NCTCOG has sought to involve the public through meetings and interviews to ensure the community has a voice in planning and compatibility decisions.
Drones/Unmanned Aircraft Systems (UAS)
The availability of smaller, affordable UAS (or drones) has spurred the rapid growth of commercial and hobbyist activities. UAS can create physical hazards, such as midair strikes with aircraft, or pose security and safety threats by flying near military personnel or over sensitive operational areas. Being a good neighbor to NAS JRB Fort Worth means exercising good judgment when flying UAS and following all laws and Federal Aviation Administration rules and regulations for UAS. In the past, NCTCOG's North Texas UAS Safety and Integration Task Force has provided regular Know Before You Fly workshops to teach UAS users about how to fly their UAS safely. The task force continues to meet and work on initiatives to educate the community. Learn more about the UAS Safety and Integration Initiative at www.NorthTexasUAS.com.
Naval Air Station Joint Reserve Base Fort Worth
Homepage: cnrse.cnic.navy.mil/Installations/NAS-JRB-Fort-Worth
Facebook: facebook.com/NASJRBFortWorth
Phone Number: 817-782-7815
Community Planning Liaison Officer: Amelia Owre
NAS JRB Fort Worth Regional Coordination Committee
Current membership roster, bylaws, meeting agendas, minutes and presentations: nctcog.org/RCC
RCC Development Review Tool: publicinput.com/rcctool
Military-Community Planning at NCTCOG
The military-community planning program at the North Central Texas Council of Governments (NCTCOG) seeks to facilitate a dialogue around common interests and strengthen compatibility among local governments, community members and military installations through communication, education and the planning process.

Reports, past studies and other resources: nctcog.org/jlus
Joint Land Use Study: joiningforcesntx.org
Unmanned Aircraft Systems
North Texas UAS Safety and Integration Task Force: nctcog.org/trans/plan/aviation/uas
UAS Safety and Integration Initiative: northtexasuas.com
State and National Resources
Department of Defense, Office of Local Defense Community Cooperation: oldcc.gov
Texas Military Department: tmd.texas.gov
Association of Defense Communities: defensecommunities.org
Contact:
Email:

RCCprojects@publicinput.com
Phone Number:

817-695-9240