Planning and Environmental Linkages
WHAT ARE PLANNING AND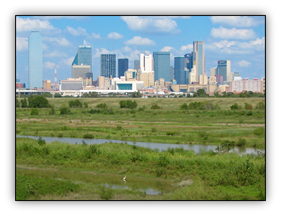 ENVIRONMENTAL LINKAGES?
Planning and Environmental Linkages (PEL) represent a collaborative and integrated approach to transportation decision making that considers environmental, community, and economic goals early in the planning stage and carries them through project development, design, and construction.
This can lead to a seamless decision-making process that can help reduce and minimize impacts, minimize duplication of effort, promote environmental stewardship, and reduce delays in project implementation.
With increased emphasis on transportation's role/impact on the environmental, community, and economic well-being of the region, the continuous introduction and consideration of environmental topics such as climate change emphasizes the important linkages between the long-range transportation planning process and environmental planning.
The Dallas-Fort Worth Metropolitan Planning Organization (MPO) is working to implement PEL efforts in consultation with resource agencies.

BACKGROUND AND MORE INFORMATION

ENVIRONMENTAL CONSULTATION FOR MOBILITY 2045 UPDATE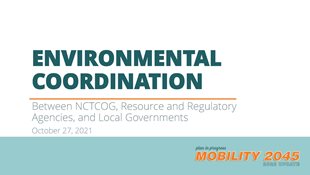 ENVIRONMENTAL CONSULTATION FOR MOBILITY 2045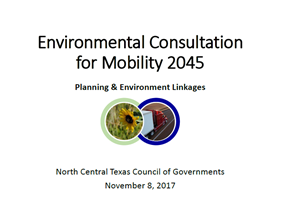 Mobility 2045 Environmental Consultation Documents and Participation Form


RELATED EFFORTS: