Local Motion - February 2020
2/5/2020
A monthly update on activities of the Regional Transportation Council and the North Central Texas Council of Governments Transportation Department
Transit agencies begin surveys to gauge demand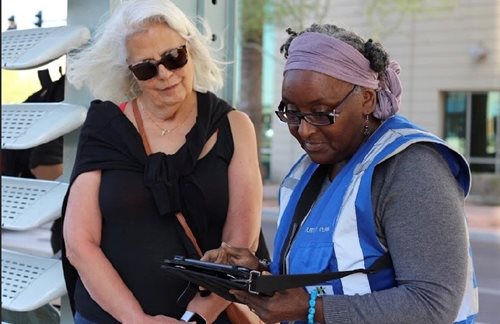 The first phase of a regionwide transit survey began February 3. Dallas Area Rapid Transit, McKinney Avenue Transit Authority and Trinity Railway Express passengers are being asked to help planners determine the demand on the system. Funded through a partnership between the North Central Texas Council of Governments, DART, Denton County Transportation Authority and Trinity Metro, the surveys will be conducted in two phases.

The first survey is an on-to-off survey that will attempt to measure demand. Upon boarding, riders on the larger DART bus routes (at least 1,000 riders per day) will be handed cards by surveyors wearing blue vests. Riders will return the cards when they get off the bus. On DART and TRE trains, and the M-Line Trolley, passengers will simply be asked where they will get off.

A subsequent interview survey will be conducted involving DART, MATA, Dallas Streetcar and TRE passengers beginning February 24 to collect information about their trips, the fare and demographics. In most cases, this will occur through an interview by the surveyors. On express routes, passengers will be asked to fill out a paper questionnaire. DCTA and Trinity Metro riders will be surveyed later this year. Riders of Trinity Metro and DCTA vehicles can expect to be asked to participate in the on-to-off survey after Labor Day and the interview survey later in the fall.

The surveys are voluntary, and answers will be kept confidential. Questions regarding the passengers' starting locations and destinations will provide details about why people are choosing transit and paint a picture of how the system is used. The survey information will allow transit agencies to better address demand and to plan future transit needs.

For more information, visit www.nctcog.org/transitsurvey2020.

---
DCTA completes rail trail, opening more choices for active transportation
The Denton County Transportation Authority's 19-mile A-train Rail Trail is now complete following years of construction. The final construction project phase connecting Highland Village/Lewisville Lake station to downtown Lewisville was completed at the end of December 2019.
Recognized as NCTCOG's Trail of the Month in January, the A-train Rail Trail runs alongside the agency's commuter rail line and was designed to complement its surroundings and adjacent facilities.

Pedestrians and cyclists can enjoy a safe and fun travel experience on DCTA's A-train Rail Trail, which connects all five A-train stations from the Downtown Denton Transit Center all the way to the Hebron Station in Lewisville.

With scenic views and easy accessibility, the A-train Rail Trail is available amenity for biking, walking, running and other exercise activities.

"Our staff has worked diligently with our many partners on our A-train Rail Trail and having the trail construction complete is a significant milestone for us," DCTA CEO Raymond Suarez said. "The rail trail is a viable mobility option that provides a multitude of benefits for the many communities DCTA services such as economic and transit-oriented development opportunities for cities along the trail, recreational option for affordable exercise and enhanced quality of life."

A-train Rail Trail by the Numbers
Length: 19-miles
Total Cost of Construction: Approximately $14 million
Construction Time: 9 years to complete the trail
Completion Date: The rail trail was officially completed on December 30
City Parks Included in Trail: The Denton Branch Rail Trail, Lewisville and Highland Village trails are incorporated in the A-train Rail Trail system.
- Submitted by DCTA
---
TEXRail marks one-year service anniversary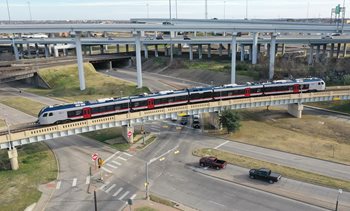 Trinity Metro photo

Trinity Metro's TEXRail celebrated one year in operation January 10, providing a comfortable and convenient ride between downtown Fort Worth and Dallas Fort Worth International Airport's
Terminal B.

At the end of 2019, TEXRail ridership reached 545,345 for the year. December was a record-setting month, with 51,217 passengers. The previous record for paid ridership was 44,741, which occurred in November.

Ridership patterns emerged during the first year, with DFW Airport Terminal B Station consistently ranking first in ridership on weekdays and Sundays. On Saturdays, Grapevine/Main Street had the highest ridership.

To put the anniversary in perspective, consider the number of miles TEXRail has traveled since beginning operations. Between January 10, 2019, and late July, the trains traveled 230,442 miles between Fort Worth T&P Station and DFW Airport Terminal B Station.

Frequency increased to 30 minutes during peak travel times late in July. From that point through January 10, 2020, the mileage is 297,594.
---
Grants available for alternative fuel facilities
Applications for alternative fuel facilities funding available through the Texas Commission on Environmental Quality will be accepted until March 18.

TCEQ has up to $12 million in grants available for the construction of new alternative fueling facilities or the expansion of existing facilities to provide new services or capacity.

Eligible fuel types include compressed natural gas, liquefied natural gas, propane, biodiesel, methanol, hydrogen and electricity.

Here are the funding details:
Up to $400,000 for a CNG or LNG project
Up to $600,000 for a combined CNG and LNG project
Up to 50% or $600,000 for all other fuels
To see full project eligibility requirements and application details visit www.tceq.texas.gov/airquality/terp/ctt.html.
---
$20M for transportation alternatives
The 2020 Transportation Alternatives Call for Projects is expected to open March 2, providing approximately $20 million for bicycle-pedestrian improvements and other active transportation options. The Regional Transportation Council will consider approval of the opening of the call for projects when it meets at 10 am February 27.

Eligible projects include on- and off-road bicycle-pedestrian facilities, multimodal connections to public transportation and bike-pedestrian infrastructure focusing on safety. Projects intended to improve the safety of students walking and bicycling to school are also eligible for funding.

Projects selected may receive between $300,000 and $5 million in federal funding. A minimum 20% match is required for construction. The deadline to submit applications for the call for projects is 5 pm May 15. For more information, visit www.nctcog.org/tap.

---
Comment on HB 2840 rules online until Feb. 26
North Texans wishing to provide feedback on draft rules governing public input at Regional Transportation Council meetings may do so at www.nctcog.org/input through February 26.

The RTC drafted the rules to outline how the transportation policymaking body will accept comments during its meetings following the passage of House Bill 2840 by the Texas Legislature last year.

HB 2840, which mandates that public meetings must reserve time before any votes are taken on action items, passed through the Texas Legislature with bipartisan support and took effect in September.

The rules introduced by the RTC seek to ensure residents' concerns are heard in a timely and efficient manner. Three minutes will be allotted to each resident seeking to comment, and six minutes for anyone requiring the assistance of a translator.

A translation must be requested 72 hours prior to the meeting. Speaker request cards must be completed prior to the start of the RTC meeting. The RTC is expected to consider adopting the new rules March 12.
---
Winter Mobility Matters features Try Parking It
The winter issue of Mobility Matters is now available in print and online. This edition of the NCTCOG Transportation Department's semiannual newsletter features the newly redesigned Try Parking It website and app, efforts to bring high-speed transportation to North Texas and news about other significant regional transportation projects.

Additionally, Arlington Mayor Jeff Williams is this issue's RTC spotlight candidate, discussing his city's role in the region's innovative approach to transportation. To read Mobility Matters online, visit www.nctcog.org/mobilitymatters.
Images Provided by Getty Images and Trinity Metro