Community Cleanup Challenge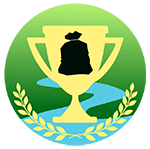 The North Central Texas Council of Governments (NCTCOG) would like to extend a congratulations to the City of Grand Prairie as winner of the second annual North Texas Community Cleanup Challenge!
The North Texas Community Cleanup Challenge is a region-wide litter cleanup challenge between cities which ran between March 1st, 2022 - May 31st, 2022. As part of the NTCCC, communities competed to see who could cumulatively clean up the most litter during the designated timeframe. A total of ten communities across the region signed on to the 2022 North Texas Community Cleanup Challenge, including the cities of: Carrollton, Fort Worth, Grand Prairie, Irving, Little Elm, Mansfield, Mesquite, Plano, Rowlett, and Shady Shores.
A total of 270 locations across North Texas were cleaned by the region's residents who logged 14,799 volunteer hours combined. A total of 9,102 bags of litter and trash were collected and reported, which is equivalent to between 68,685 and 96,321 pounds.
While Grand Prairie is taking home the trophy this year, the region as a whole has benefitted from the collective efforts of all those involved. Our local communities and environments are cleaner, healthier, and more beautiful thanks to the efforts of all those who donated their time and efforts picking up litter from our environment.
To learn more about the NTCCC, please visit http://www.communitycleanupchallenge.com/. Please save the dates of March 1, 2023 - May 31, 2023 for the third annual North Texas Community Cleanup Challenge and Mayors' Challenge.