2011 Digital Orthophotography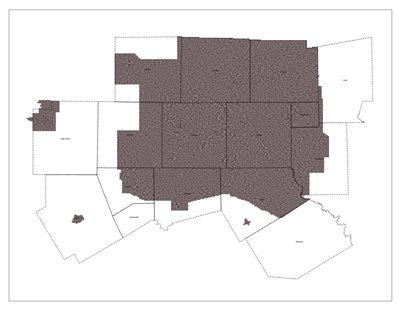 In 2011, the North Central Texas Council of Governments facilitated the cooperative purchase
of 4-band, 6-inch resolution digital aerial photography (orthos) for over 6,800 square miles of the NCTCOG region, including Collin, Dallas, Denton, Tarrant and Rockwall counties and portions of Kaufman, Johnson, Ellis, Hood, Parker and Wise counties.

The contractor for this project was Sanborn. The orthos were collected in January and February 2011 and are available for purchase via the DFWMaps Marketplace according to the following price schedule.
Georeferenced TIFF images are sold in 3,000' x 2,000' tiles, or 0.215 square miles. Sample images and a shapefile of the tile structure may be downloaded below:
Specifications
The coverage area for 2011 includes Dallas, Fort Worth, and surrounding urban and rural counties. Two areas of true orthoimagery were produced over the downtown areas of Dallas and Fort Worth. The flight design achieved a nominal ground-pixel resolution sufficient for developing 6" pixel orthophotography without oversampling. It was also designed with sufficient forward overlap and strip side laps to ensure total project area coverage. The final orthoimagery meet National Map Accuracy Standards (NMAS) 1"=100' scale mapping (RMSE 1.55' x or y).
Altitude of Capture
Approx. 5,000'-8,500' above mean terrain
Focal Length
120 mm (4.72")
Imagery Scale
Minimum: 1"= 1764' (Photo scale 1:21167)
Maximum: 1" = 2129' (Photo scale 1:25552) – Main block DFW restricted airspace
Capture Period
January 21 - February 28, 2011
Conditions
Leaf off, cloud free, 30 degree minimum sun angle
Forward Overlap
60% (80% for True Ortho areas)
Sidelap
30% (60% for True Ortho areas)
Coordinate System
Texas State Plane, North Central Zone
Horizontal Datum
NAD 83
Units
US Survey Feet
Format
TIFF, MrSID

For more information on the 2011 orthophotography project, view the metadata.
For questions about the 2011 digital aerial photography project, send us an email.