Heavy-Duty Diesel Vehicle Inspection and Maintenance Demonstration Program
In the Dallas-Fort Worth region, approximately 48 percent of on-road emissions of nitrogen oxides are attributable to heavy-duty diesel vehicles, yet these vehicles are excluded from the State's Inspection and Maintenance (I/M) Program. To evaluate the feasibility of incorporating diesel vehicles into the I/M Program, the North Central Texas Council of Governments (NCTCOG) partnered with the Texas A&M Transportation Institute (TTI), the Texas Department of Public Safety, the Texas Department of Transportation and the University of Denver through the Heavy-Duty Diesel I/M Pilot Program – Phase 1 study to test a prototype of a new emissions testing technology called the Streamlined Heavy-Duty Emissions Determination (SHED).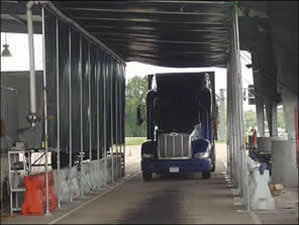 In June 2012, a prototype of the SHED was constructed at the New Waverly Weigh Station, along IH 45, and successfully deployed for the Pilot Program – Phase 1 study. Emissions data from nearly 1,500 heavy-duty diesel vehicles (HDDV) were collected during a two week testing period. SHED data was validated by comparing readings to a control group of ten HDDVs for which emissions data was also evaluated utilizing a Portable Emissions Measurement System (PEMS). The data from the SHED compared favorably with the PEMS readings, clearly demonstrating that this technology is a viable option to be considered for emissions testing of HDDVs, and potentially other types of vehicles.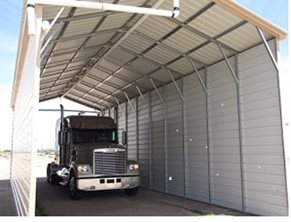 In July 2015, NCTCOG and TTI partnered to start the second phase of testing the On-Road Heavy-Duty Emissions Measurement System (OHMS), which was previously known as SHED. This study had two main objectives, the first of which was to refine the OHMS design used in Phase 1 and investigate other technologies that can be logically integrated with the OHMS setup for enhanced measurement capabilities. The second objective was to deploy the improved design at a selected location through a field test, where real-world data will be collected and final enhancements to the system can be identified. The research facility testing ran spring 2016, and the real- world field testing occurred in the fall of 2016. The final report for both studies can be found below.
Demonstration Resources
PHASE 1
Heavy-Duty Diesel I/M Pilot Program – Phase 1 Final Report
Heavy-Duty Diesel I/M Pilot Program – Phase 1 Poster
Heavy-Duty Diesel I/M Pilot Program – Phase 1 Results Presentation
Alternative Method for Measuring Real-Time Heavy-Duty Diesel Emissions
PHASE 2
Heavy-Duty Diesel I/M Pilot Program- Phase 2 Final Report
Heavy-Duty Diesel I/M Pilot Program - Phase 2 Results Presentation
Using OHMS for Heavy-Duty Vehicle I/M Program

A similar prototype was deployed in the Vancouver, Canada metro area and performed by Envirotest Canada. Click here for the study.
In addition to these studies, future studies will continue to be aimed at identifying high-emitting diesel vehicles and encouraging the repair or replacement such vehicles in order to reduce truck emissions and improve air quality in the region.
Additional Resources
Heavy- Duty Diesel Vehicle Inspection and Maintenance Working Group
Oversized/ Overweight Heavy- Duty Vehicle Emissions Impact Study

Staff Contacts: Jason Brown and Chris Klaus