Regional Emissions Enforcement Program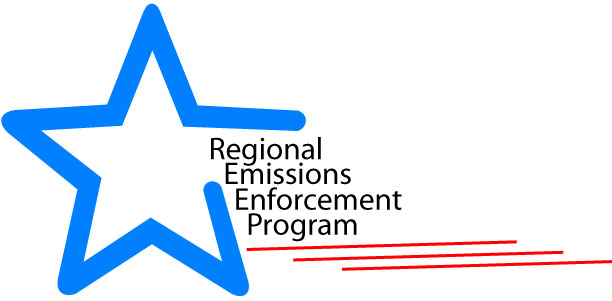 The Regional Emissions Enforcement Program (REEP) was developed to help partnering agencies identify and remove high-emitting vehicles with expired, fraudulent, and improper state emissions inspections from Texas roadways. REEP activities included:
Conducting covert operations on vehicle emissions inspection stations to identify and prosecute inspectors performing improper inspections

Identifying and prosecuting those who counterfeit or improperly issue temporary tags

Investigating and pursuing civil litigation against car dealers selling improperly inspected vehicles

On-road emissions enforcement of vehicles traveling in our region
The North Central Texas Council of Governments coordinates with county judges, justice courts, district attorneys, sheriffs, constables, local police departments, the Texas Department of Public Safety, Texas Department of Motor Vehicles, and the Texas Commission on Environmental Quality to administer REEP.
The performance of REEP is tracked through the Regional Emissions Enforcement Program Database. Law enforcement officers participating in the program can enter citations issued for registration certificate violations, smoking vehicle violations, truck lane restrictions, and anti-idling restrictions. Entering citations into this database provides officers access to citations written across jurisdictional boundaries.

For more information about database access, please visit the NCTCOG Emission Database.

+ Program Partners
United States Environmental Protection Agency

Texas Attorney General's Office

Texas Commission on Environmental Quality

Texas Department of Motor Vehicles

Texas Department of Public Safety
+News Articles
TxDPS Arrests Two Employees, Arrest and Detains Nine Other in Fake Inspection Probe - NBCDFW.com - 08/13/2023
Here's When Texas Will Get Rid of Paper Tags - NBCDFW.com - 06/22/2023
Texas Car Safety Inspection Changes - Texastribune.com - 06/01/2023
Heads Up, Texas Drivers! You May Have Been Incorrectly Charged for your Auto Inspection - KVUE.com - 05/31/2023
Bill to Eliminate Paper License Plates in Texas Passes Senate - NBCDFW.com - 05/24/2023
Texas Legislature on the Verge of Eliminating Vehicle Safety Inspections, But Fees Would Remain - MSN.com - 05/19/2023
Texas May Abolish Annual Vehicle Inspections, But Metroplex Driver Aren't off the Hook - Yahoo.com - 05/18/2023
Texas Law Enforcement Intensifying Crackdown on Fake Vehicle Inspections - NBCDFW.com - 04/27/2023
TxDPS to Ramp Up Crackdown on Fake Inspections - NBCDFW.com - 03/30/2023
TxDMV's New Paper Tag Design Easily Counterfeited, Police Say - NBCDFW.com - 03/27/2023
Texas Lawmakers Push for Action After NBC 5 Investigation Details Claims of Widespread Vehicle Inspection Fraud - NBCDFW.com - 03/23/2023
Investigators Believe Millions of Texas Cars Were Never Checked for Safety and Emissions - NBCDFW.com - 03/22/2023
Questions Raised Over Passed Vehicle Inspections - NBCDFW.com - 03/22/2023
Paper is the Problem: Grand Prairie Police Chief Wants to Permanently Get Rid of Paper Tags - CBSNEWS.com - 01/30/2023
Police, Lawmakers Say the Temporary License Plate System is Being Abused - CBSNEWS.com - 01/27/2023
Driver in Custody After Leading Police on Chase in Dallas County - NBCDFW.com - 11/21/2022
TxDMV Redesigns Paper License Tags to Include New Security Features - NBCDFW.com - 11/17/2022
Grand Prairie Police Officer's Death Reignites Temporary License Plate Controversy - CBSNEWS.com - 11/15/2022
Police Searching for Paper Tagged "Ghost Car" in Deadly Grand Prairie Chase - NBCDFW.com - 11/15/2022
Ex-TXDMV Insider: Agency Created "Unnecessary Obstacles" for Police Pursuing Paper Tag Crooks - NBCDFW.com - 07/27/2022
Car Dealers to Be Required to Get Fingerprinted - NBCDFW.com - 06/30/2022
TxDMV to Require Fingerprinting for Car Dealers After Abuse of Paper Tag System - NBCDFW.com - 06/30/2022
Police Make Bogus Tag Bust Tied to Social Media Ads - NBCDFW.com - 05/31/2022
Vehicle Used in Dallas Salon SHooting Had Paper Tags - NBCDFW.com - 05/18/2022
Ads for Fake Tags Persist Despide Facebook, TxDMV Efforts - NBCDFW.com - 05/11/2022
Dallas Police Shut Down Accused Fake Paper Tag Dealer - NBCDFW.com - 05/04/2022
Dallas Police Bust Fake Paper License Plate Operation - Audacy.com - 05/04/2022
Texas House Set to Hold Paper Tag Hearings - NBCDFW.com - 04/25/2022
TxDMV Cracks Down on Dealers Selling Temporary Paper Tags - NBCDFW.com - 04/15/2022
No More paper Tags for Cars That Don't Pass Inspection - NCBDFW.com - 04/12/2022
Another TxDMV Loophole Allows Unsafe Cars to Get Temporary Tags - NBCDFW.com - 04/07/2022
Texas Senate Will Investigate Illegal Paper Tag Crimes, Smuggling - NBCDFW.com - 04/05/2022
Texas House Will Hold Hearings on Paper Tag Mess - NBCDFW.com - 03/05/2022
License to Smuggle: Drug Cartels and Human Smugglers Use Paper Texas Tags to Evade - NBCDFW.com - 02/28/2022
FWPD: Fake Paper License Tags Are Being Used To Commit Crimes - Audacy.com - 02/17/2022
City of Fort Worth Council Meeting - Fortworth.gov - 02/15/2022
Crash Victim's Parents Want More Cops to Police Paper Tag Fraud - NBCDFW.com - 02/14/2022
More Funding Needed to Fight Criminals Using Bogus Paper Tags: Police - NBCDFW.com - 02/13/2022
Police Report Drop in Fraudulent Tags But Warn Cooks Are Adapting - NBCDFW.com - 02/10/2022
TxDMV Shuts Down Six More Dealers Suspected of Selling Paper License Tags - NBCDFW.com - 02/09/2022
TxDMV Director Resigns Amidst Paper Tag Mess - NBCDFW.com - 02/08/2022
TxDMV Takes Emergency Action to Keep Crooks From Selling Paper Tags - NBCDFW.com - 01/27/2022
Dallas Police Operation Targets Fraudulent Paper Tags - NBCDFW.com - 01/21/2022
Recording Shows Police Warned TxDMV of Paper Tag Security Flaw Years Ago - NBCDFW.com - 01/17/2022
DMV Committee Recommends Fingerprinting Some Dealers to Slow Paper Tag Fraud - NBCDFW.com - 12/16/2021
Texas House Transportation Chair Vows to Stop Paper Tag Fraud - NBCDFW.com - 12/14/2021
Texas DMV Boss Deflects Blame for Paper Tag Debacle - NBCDFW.com - 12/06/2021
Illegal Paper Tags Costing Texas Taxpayers and Toll Roads Millions - NBCDFW.com - 11/23/2021
Suspect Paper Tag Peddler Shut Down Tuesday, Reopens Wednesday - NBCDFW.com - 11/10/2021
Part 2: Investigators Looking Into Bogus Tags Says DMV Needs to Do More - NBCDFW.com - 11/09/2021
Part 1: Paper Tag Fruad in Texas - NBCDFW.com - 11/08/2021
Fake Texas Temporary Car Tags Linked to Crimes as far Away as New York NBCDFW.com - 8/5/2021
Dallas County Clean Air Task Force May Be Gone For Good CBSLocal.com - 07/10/2019
Temporary License Plates Being Sold for Cash Click2Houston.com - 11/15/2017
Dallas County Clean Air Task Force Shuts Down CBSLocal.com - 10/01/2017
Public Urged to Help Crack Down on Fake Temporary License Plates NBCDFW.com - 03/22/2017
Texas Senator Seeks to Dismantle Vehicle Inspection Program Time Warner Cable News - 01/27/2016
Car Sticker Rules Starting Sunday Could Confuse Drivers The Texas Tribune - 02/27/2015
Watchdog: Answers on Texas' New Auto Inspection System The Dallas Morning News - 01/13/2015
Vehicle Inspection Fraud Task Forces Running on Empty [PDF] StateImpact - Reporting Project of NPR Member Stations - 06/11/2013
Counties Hunt for Fake Inspection Stickers [PDF] myFOXdfw.com - 03/19/2012
Media Release [PDF] Harris County Constable - 01/12/2012
Arlington Used Car Dealer Accused of Fake Vehicle Inspections Star-Telegram - 07/22/2011
Emissions Test Tampering Lawsuit Filed by AG's Office NBCDFW.Com - 07/21/2011
Regional Emissions Enforcement Program Awarded 2010 Clean Air Excellence Award by EPA [PDF] - 06/07/2011
West U Police Arrest Drivers for Fake Inspection Stickers, Driver's Licenses [PDF] instantnewswestu.com - 12/21/2010
Cops Crack Down on Inspection Stickers [PDF] kxan.com - 12/14/2010
State Looking Into Inspection Fraud at Dealerships [PDF] CBS - 05/04/2010
Crackdown on Counterfeit Inspections [PDF] kxan.com - 04/21/2010
Save the Air, Report a Fumigator NBCDFW.com - 08/28/2009
+ Resources
Staff Contacts
Anthony Moffa
Jason Brown
Chris Klaus