TEXpress Lanes Offer Better Reliability, Peak-Period Discounts on Some DFW Roadways
9/20/2023
TEXpress drivers who sign up through GoCarma smartphone app can receive a 50% discount when carpooling during peak hours
(Arlington, Texas) – School is back in session across the Dallas-Fort Worth area and families are adjusting to their fall schedules. As parents take their kids to school, sports practices or make their way home to attend an after-school function, they may have options for reaching their destinations faster.
The TEXpress Managed Lane System offers drivers more reliability in some of the most congested corridors throughout the region.
The system was established to enable users of some of the region's most highly traveled roadways to bypass congestion. In corridors such as the North Tarrant Express (Interstate Highway 35W/State Highway 183/121) and LBJ Express (IH 35E and 635), drivers can either choose to pay a variable toll for the ability to travel at least 50 mph on the TEXpress Lanes, or they can use the general-purpose lanes for no additional charge.
Motorists who share a ride during the morning and afternoon peak periods can even save 50% on their tolls. The Regional Transportation Council established policies that provide a toll discount for high-occupancy vehicles (HOV) on TEXpress Lanes during weekday peak periods (6:30-9:00 a.m. and 3:00-6:30 p.m.).
The discount is implemented through the GoCarma smartphone app. To receive the HOV discount on the region's TEXpress Lanes, simply install the app on your phone once. Once the app is installed, you are ready to start receiving the discount. You do not need to open it again.
If at least two people in the car have the GoCarma app, you will be eligible for the HOV 50% toll discount. (
An optional non-trackable, Bluetooth occupant pass is available for people without smartphones.)
To date, the GoCarma app has been used by more than 65,000 daily commuters in Dallas-Fort Worth and verified more than 1.9 million HOV transactions. From 2021-22, the number of North Texans who downloaded the app increased 18%.
GoCarma is available for FREE in the App Store and on Google Play. For more information, visit
www.gocarma.com/dfw
.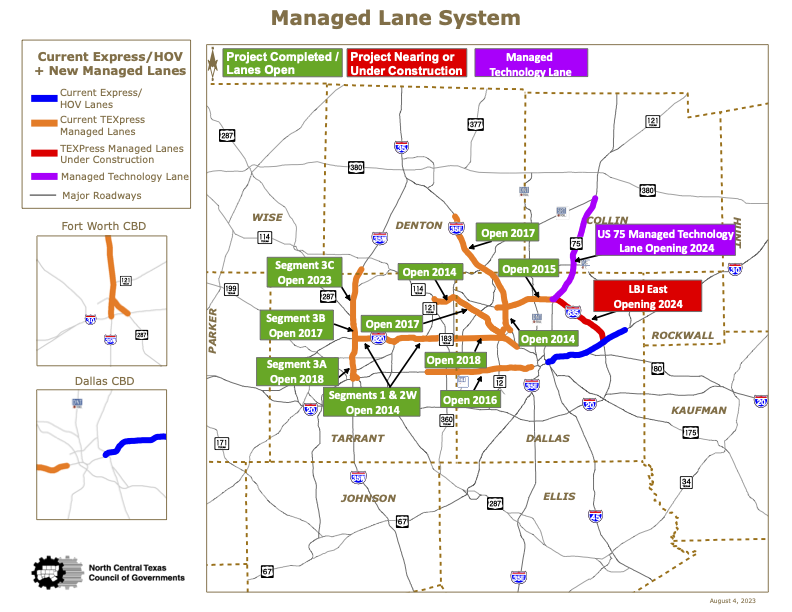 About the North Central Texas Council of Governments:
NCTCOG is a voluntary association of local governments established in 1966 to assist local governments in planning for common needs, cooperating for mutual benefit and coordinating for sound regional development. NCTCOG's purpose is to strengthen both the individual and collective power of local governments and to help them recognize regional opportunities, eliminate unnecessary duplication and make joint decisions.
NCTCOG serves a 16-county region of North Central Texas, which is centered in the two urban centers of Dallas and Fort Worth. Currently, NCTCOG has 238 member governments including 16 counties, 169 cities, 19 school districts and 27 special districts. For more information on the NCTCOG Transportation Department, visit
www.nctcog.org/trans
.
About the Regional Transportation Council:
The Regional Transportation Council (RTC) of the North Central Texas Council of Governments has served as the Metropolitan Planning Organization (MPO) for regional transportation planning in the Dallas-Fort Worth area since 1974. The MPO works in cooperation with the region's transportation providers to address the complex transportation needs of the rapidly growing metropolitan area. The Dallas-Fort Worth metropolitan area includes Collin, Dallas, Denton, Ellis, Hood, Hunt, Johnson, Kaufman, Parker, Rockwall, Tarrant and Wise counties. The RTC's 44 members include local elected or appointed officials from the metropolitan area and representatives from each of the area's transportation providers. More information can be found at
www.nctcog.org
.