Regional Smoking Vehicle Program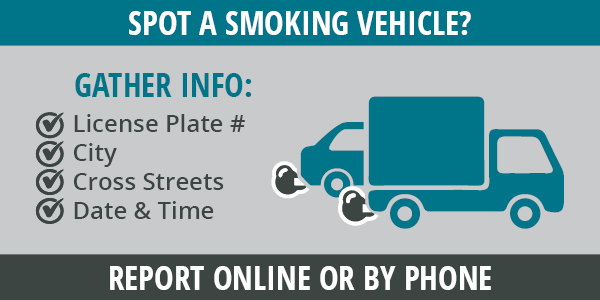 The Regional Smoking Vehicle Program is designed to inform vehicle owners their vehicle may be creating excessive smoke and emitting pollutants, which are harmful to our health and environment.
Implementation Region
The North Central Texas region encompasses Collin, Dallas, Denton, Ellis, Erath, Hood, Hunt, Johnson, Kaufman, Navarro, Palo Pinto, Parker, Rockwall, Somervell, Tarrant, and Wise counties.
Report a Smoking Vehicle My Vehicle was Reported or I Received A Report Letter
Driving a vehicle with excessive smoke in Texas is a violation of the state's Smoking Vehicle Statute. This statute defines a smoking vehicle as one that either emits smoke for ten or more consecutive seconds, or whose suspended smoke does not fully dissipate within ten seconds. Texas law enforcement agencies may issue citations, punishable by fines up to $1,000, to drivers operating a smoking vehicle on any roadway. Accordingly, the North Central Texas Council of Governments (NCTCOG) informs registered owners of vehicles suspected of emitting excessive smoke.

The registered owner will receive the following by mail.
Letter explaining when, where, and description of the vehicle reported anonymously to NCTCOG for emitting excessive visible emissions (smoke)
Information highlighting the various possible causes of vehicle smoke

Foundation for Support
House Bill 2134 passed by the 77th Texas Legislature; House Bill 1611 passed by the 79th Texas Legislature; Transportation Code, Title 6, 547.605; the Texas Commission on Environmental Quality (TCEQ); the North Central Texas Council of Governments; and participating counties.
Steps to Report a Smoking Vehicle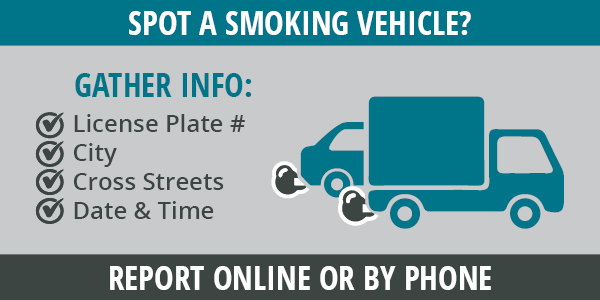 The Regional Smoking Vehicle Program is designed to inform vehicle owners their vehicle may be creating excessive smoke and emitting pollutants, which are harmful to our health and environment.


What causes Smoking Vehicles?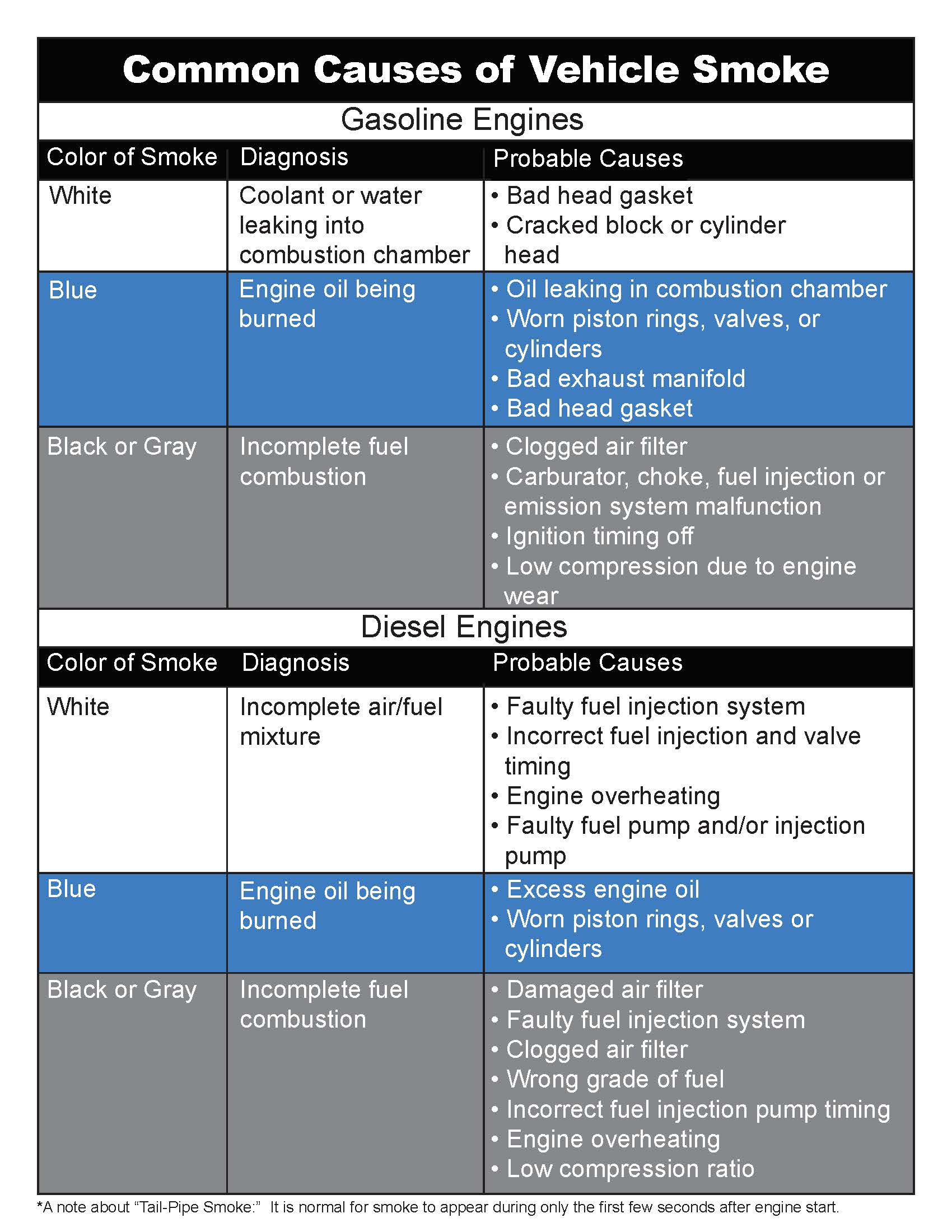 Q: How do I report a smoking vehicle?
A: Anyone who sees a smoking vehicle will need to note the following information: the license plate, date and time, type of vehicle (i.e.: car or truck, etc.), and location.
All landline and wireless users can call 817-704-2522
Q: Can out-of-state vehicles be reported?
A: RSVP is not designed to accept reports on vehicles that are registered outside of Texas. We do not have the resources or the authority to retrieve data on vehicle owners from other states.
However, state law prohibits any person from operating a motor vehicle emitting visible smoke for 10 seconds or longer on Texas roadways. Therefore, law enforcement authorities statewide do have the authority to issue citations to the drivers of out-of-state vehicles if they are observed violating this law.

Q: Do people get a ticket if I report them?
A: No. If a smoking vehicle is called in, the vehicle owner is sent a letter informing them that their vehicle was reported for smoking. We encourage the owner/operator to have the vehicle checked out by their mechanic and to voluntarily repair it, if necessary.

Q: I have a diesel. Why was I reported?
A: Many diesels, even when properly maintained, have slight smoke emissions. Proper maintenance of your vehicle will greatly decrease smoke emissions and increase engine efficiency.
Q: I sold my vehicle months ago, but I received the smoking vehicle report. What can I do?
A: If you do not own the vehicle that was reported, you should notify the Texas Department of Motor Vehicles (TxDMV) or your county tax office to have their records corrected. It is likely that the new owner has not transferred the title to their name. If you have further questions about the vehicle title and registration process, please call the TxDMV at 888-368-4689.

Q: My vehicle doesn't smoke. Why was it reported?
A: A small percentage of calls received on our RSVP line and our website do report incorrect or transposed license plate numbers and we apologize if yours was one of those. Rest assured, as long as your vehicle's maintenance is performed and it is running clean, it is highly unlikely that you will ever receive another letter.

Q: I just paid to have an emissions check. Why am I receiving this letter?
A: Your car could pass an emissions test and still emit excessive smoke. Check with your mechanic to see if repairs are needed.

Q: I think my neighbor is victimizing me. What do I do?
A: We are sorry if that is the motivation behind the complaint lodged against your vehicle. This notification does not affect your driving record and does not carry any penalties.

Q: Are smoking vehicles really any worse than other vehicles?
A: Yes! Statistics indicate that 10% of the vehicles create more than 50% of the emissions.

Q: Can I report any type of vehicle or equipment I see smoking?
A: No. This program is designed for "On Road Vehicles". Here are examples of what you can report to this program:
Cars, Mini-Vans, Pickup Trucks, SUV's, Passenger or Delivery Vans and Trucks, Diesel Cars and Pickup Trucks, Heavy Duty Diesel Trucks and Busses.
If state law permits the vehicle to be driven on the road it must comply with the transportation code.
Q: What are the major sources of pollution?
A: Sources of air pollution can be classified as stationary, area, or mobile sources.
Stationary sources include relatively large, fixed facilities such as power plants, chemical process industries, petroleum refineries and cement kilns.
Area sources are small, stationary, nontransportation sources that collectively contribute to air pollution, and include such sources as dry cleaners and bakeries, surface coating operations, home furnaces, and crop burning.
Mobile sources include on-road vehicles such as cars, trucks, and buses; and off-road sources such as trains, ships, airplanes, boats, lawnmowers, and construction equipment.

Q: What can I do to improve air quality?
A: Reduce use of solvents, reduce use of energy, keep vehicles in good repair, use alternative commuting options, select low emission vehicles, reduce unnecessary trips, postpone polluting activities on high ozone days, reduce emissions from off-road sources.

Q: What is air pollution?
A: Air pollution is the presence of substances, both gases and particles, in the air in amounts that are harmful to the health or comfort of humans or animals, or can cause damage to plants or materials (properties). This is usually the result of industrial processes and/or vehicle activities.

Q: What are the criteria pollutants for air pollution?
A: There are six (6) criteria pollutants: ozone, carbon monoxide, particulate matter, sulfur dioxide, nitrogen dioxide, and lead.

Q: Where are the other non-attainment areas in Texas?
A: The non-attainment areas are: Beaumont-Port Arthur, Dallas-Fort Worth, Houston-Galveston.

Q: Are there any regions in Texas that has the EPA designation as attainment, after being classified as non-attainment?
A: Yes. El Paso recently achieved the EPA designation as attainment for their region, and continue their emission reduction programs for the benefits.

Q: How is Ozone being formed?
A: Ozone is formed as a consequence of chemical reactions in the atmosphere where the reactants are nitrogen oxides and volatile organic compounds in the presence of sun light.

Q: What are the health effects of Ozone?
A: Ozone poses health problems for children, the elderly, asthmatics, and even healthy adults.
It can cause acute respiratory problems.
It can aggravate asthma, emphysema and bronchitis.
It can lead to hospital admissions and emergency room visit.
It can impair the immune system.
¿Qué causa el humo de los vehículos?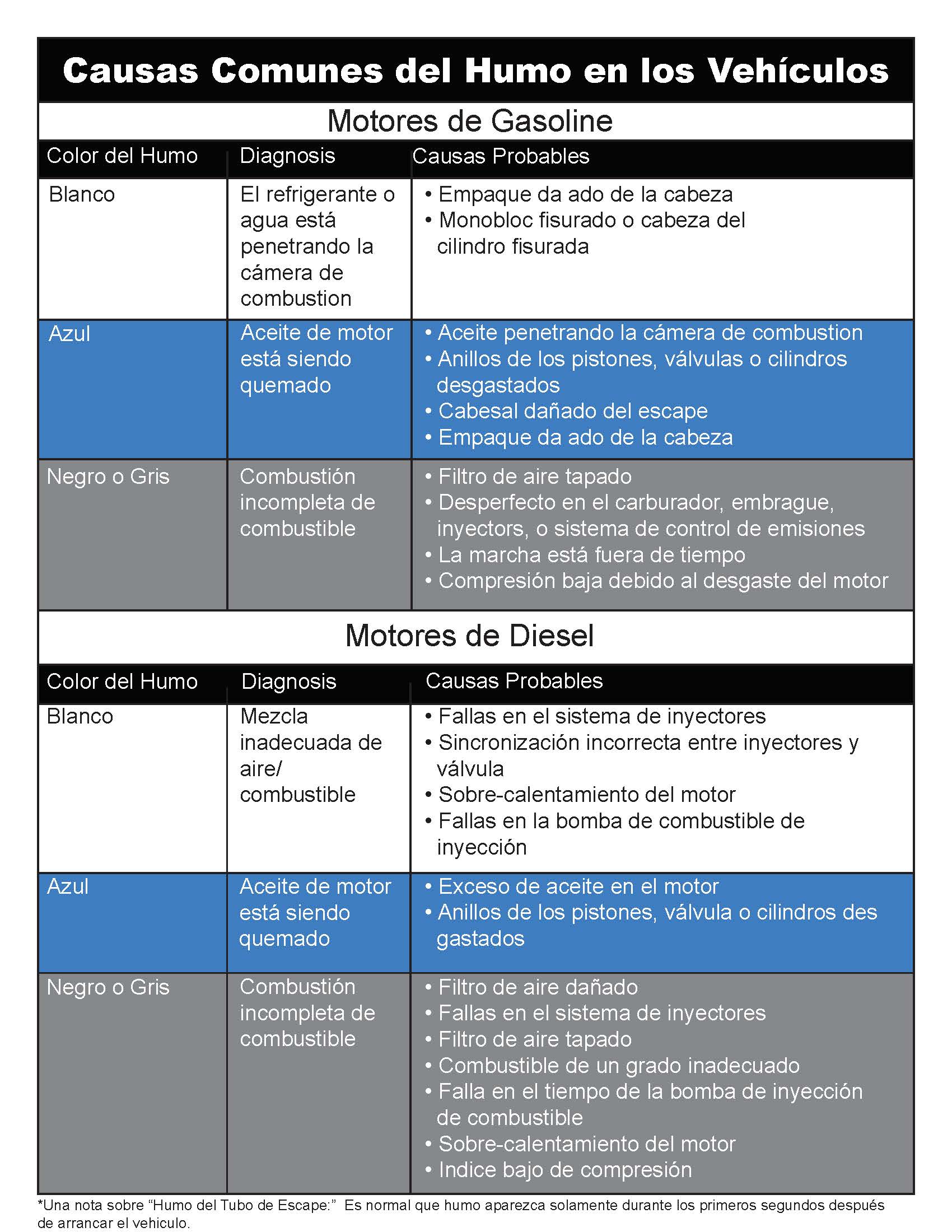 Contacts for Questions