Collin County Transit Study

With assistance from HDR, the North Central Texas Council of Governments (NCTCOG) completed the Collin County Transit Study alongside the Irving-Frisco Rail Corridor Study in 2021. Two project advisory committees, one for each study, consisting of elected officials and city staff, as well as transportation agency staff for stakeholder communities, guided the direction of each study and approved the recommendations to ensure that the results would be useful for each community.
Collin County Transit Study
The Collin County transit study revealed a patchwork of existing public transportation services. While the study provides recommendations for services and focus areas based on the varying needs throughout the county, the ultimate conclusion is that Collin County needs a more structured approach to governance and funding to improve public transportation.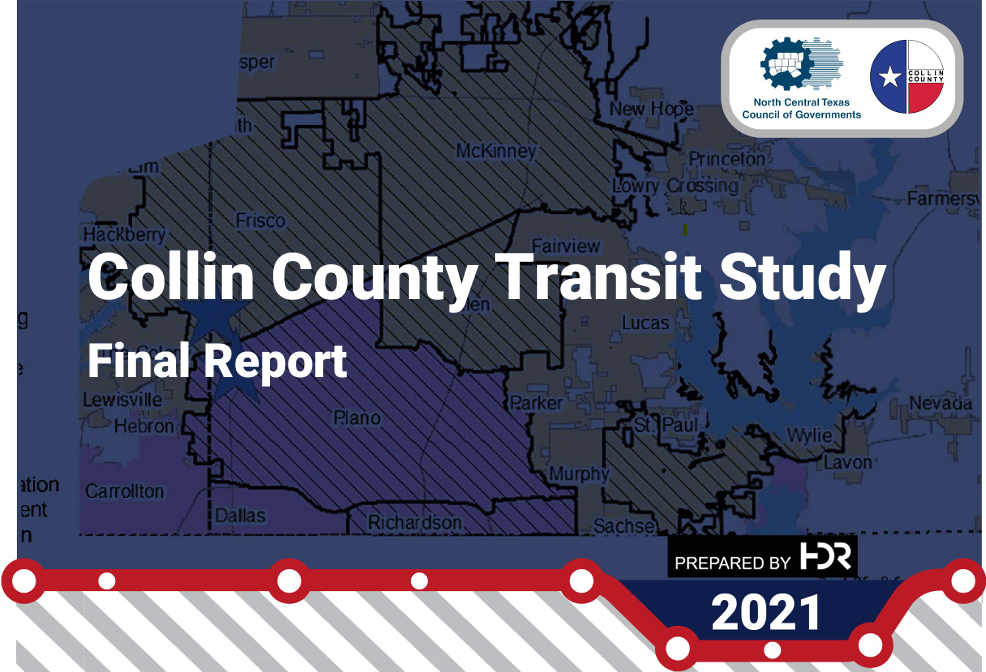 Click Here to view the full Collin County Transit Study Report
Other Documents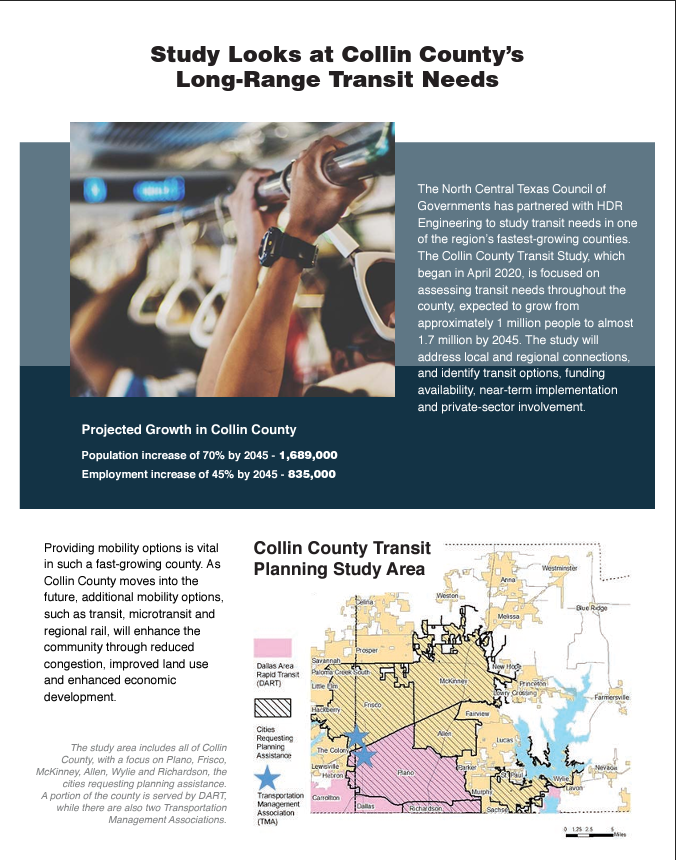 Collin County Transit Study Factsheet – A brief overview of the study's goals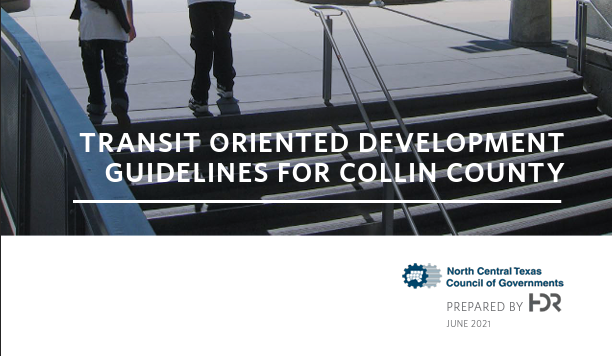 Transit Oriented Development (TOD) Guidelines – A comprehensive guide to the implementation of TOD in Collin County
The Cost of Not Investing in Transit – Whitepaper on why transit investment is necessary
Irving-Frisco Corridor Study
The Irving – Frisco Corridor study focuses on the station area and demand analysis of commuter rail service between Irving and Frisco, with a potential extension to Celina. Much like the Collin County transit study, the rail corridor study concluded that a common transit governance model, ultimately joining an existing transit authority, was necessary to maintain reliable operations through the various communities, interface with existing rail transit, and coordinate operations with existing freight rail providers. Interim solutions were explored that maximized the use of existing rail availability (infrastructure and time slots) to produce limited pilot service under a local government corporation (LGC) model.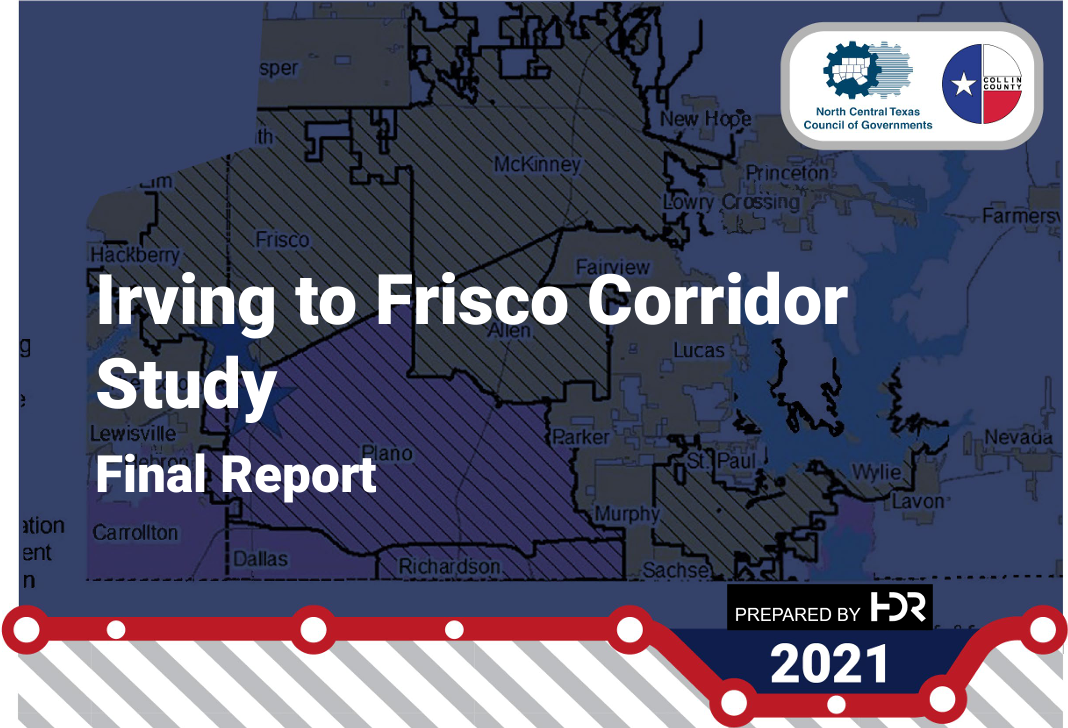 Click Here to view the full Irving-Frisco Corridor Study Report
Other Documents
| | | |
| --- | --- | --- |
| Date | Meeting | Materials |
| August 17, 2021 | Joint Collin County Transit Study/Irving to Frisco Passenger Rail Corridor PAC | Presentation |
| June 17, 2021 | Irving to Frisco Corridor Study PAC | Presentation |
| June 3, 2021 | Collin County Transit Planning Study PAC | Presentation |
| May 20, 2021 | Irving to Frisco Corridor Study PAC | Presentation |
| May 13, 2021 | Collin County Transit Planning Study PAC | Presentation |
| April 15, 2021 | Irving to Frisco Corridor Study PAC | Presentation |
| April 1, 2021 | Collin County Transit Planning Study PAC | Presentation |
| February 4, 2021 | Collin County Transit Planning Study PAC | Presentation |
| January 21, 2021 | Irving to Frisco Corridor Study PAC | Presentation |
| December 17, 2020 | Irving to Frisco Corridor Study PAC | Presentation |
| December 3, 2020 | Collin County Transit Planning Study PAC | Presentation |
| October 15, 2020 | Irving to Frisco Corridor Study PAC | Presentation |
| October 1, 2020 | Irving to Frisco Corridor Study PAC | Presentation |
| September 17, 2020 | Irving to Frisco Corridor Study PAC | Presentation |
| September 3, 2020 | Collin County Transit Planning Study PAC | Presentation |
| August 6, 2020 | Collin County Transit Planning Study PAC | Presentation |
| August 6, 2020 | Irving to Frisco Corridor Study PAC | Presentation |
| June 18, 2020 | Collin County Transit Planning Study PAC | Presentation |
| June 18, 2020 | Irving to Frisco Corridor Study PAC | Presentation |
| May 21, 2020 | Collin County Transit Planning Study PAC | Presentation |
| May 21, 2020 | Irving to Frisco Corridor Study PAC | Presentation |