Special Weapons and Tactics (SWAT)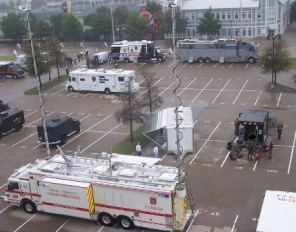 The objective of the Regional Special Weapons and Tactics (SWAT) Working Group is to fortify counter-terror investigations and law enforcement, and enhance law enforcement's ability to respond to chemical, biological, radiological, nuclear, and explosive (CBRNE) incidents. Through regular meetings, subject matter experts evaluate discipline specific information, unit capability, regional coverage, and projects. By providing recommendations to both the Urban Area Working Group and the Regional Emergency Preparedness Advisory Committee, the Regional SWAT Working Group is able to maximize Homeland Security funding opportunities to address capability gaps.
These subject matter experts continue to evaluate and categorize unit capabilities, program request evaluations, and create regional training opportunities to better train and equip our first responders with the knowledge, skills, and abilities to enhance SWAT response capabilities in this region and beyond.
For more information contact:
Marcie Bruner
November 10, 2023 - 1:30 PM
Next Meeting Date
NCTCOG - Regional Forum Conference Room
---
September 22, 2023 - 10:00 AM
Next Meeting Date
Microsoft Teams
---
NCTCOG - Regional Forum Conference Room