Regional CEDS
What is the Comprehensive Economic Development Strategy?


The Comprehensive Economic Development Strategy process is a national program sponsored by the US Department of Commerce Economic Development Administration (EDA). A CEDS is designed to bring together the public and private sectors in the creation of an economic road map to diversify and strengthen regional economies.
The CEDS outlines an approach to regional growth and prosperity that builds on the region's strengths, emphasizes key regional industry clusters, and prioritizes economic development projects. It is required to be updated at least every five years.
Why do we need a Regional Comprehensive Economic Development Strategy?
Research indicates that the majority of U.S. economic activity is occurring not just within major cities but rather within a limited number of major regions across the nation. To compete nationally and internationally for people and businesses, interdependent jurisdictions are planning regionally. The North Central Texas region's population has grown by 30 percent since the 2000 Census and is projected to grow by another 30 percent over the next 15 years. Part of planning for that growth is planning for the economic and workforce development to ensure we have quality jobs for workers and skilled workers for jobs.
What is in a CEDS plan?
The Comprehensive Economic Development Strategy identifies regional economic development goals and priorities which communities within a region can implement collaboratively to bring about sustainable economic prosperity. The CEDS includes components such as economic and community development problems and opportunities, goals and objectives, regional strategies and priorities, industry and occupation cluster assessments, a plan of action, and performance measures.
EDA requires that the following be included in the plan.
Summary Background
SWOT Analysis and Economic Resilience
Strategic Direction/Action Plan
Evaluation Framework
Appendices
Resources

The Economic Development Administration requires the regional Comprehensive Economic Development Strategy to be updated every five years. On May 31, 2022 the Economic Development Administration approved the 5-years update to the Comprehensive Economic Development Strategy for the North Central Texas Council of Governments region.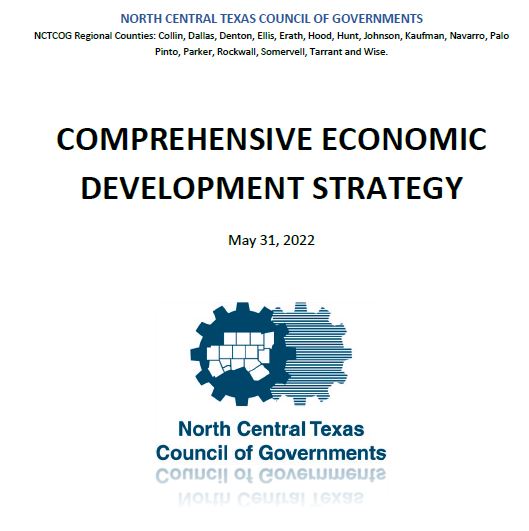 ---